Last Saturday, I ran the Hot Chocolate 5k in Chicago.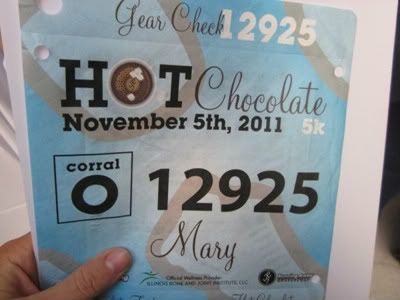 I made a goal of finishing in under 30 minutes, and even though I stopped running when I moved to California, I was feeling confident with my recent training that I'd be able to make it.
It was a gorgeous autumn day - sunny and cool - and there were tons of people in the park. Tens of thousands. Based on post-race figures, the number of people who raced is about half the population of the town I moved to in California. It felt incredible to be back in my city, but also, to be back racing.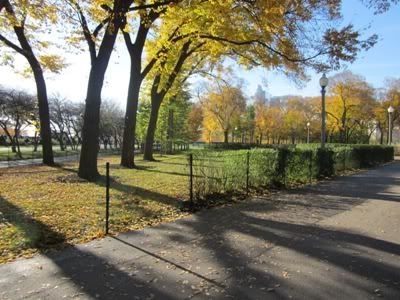 I never lost my love for it, but I think that when I moved and drifted away from running, I temporarily forgot just how great it feels to race. Running is excellent, but racing is an entirely different experience. They're both wonderful in their own ways - running is some quality alone time, but when you race, there are hundreds or thousands of other people there, people who love being active and who want to live healthy lives. It's as inspirational and motivational as it is fun.
In the past, the race was held along the lakefront paths, but as it has grown into a much larger event, they moved the course to the city streets this year.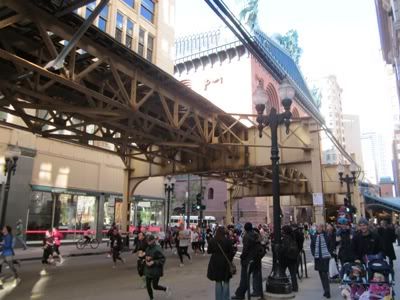 Perfect. It was a nice course through the downtown area of a city I love endlessly and miss fiercely.
I laid it all out on that course. Tore it up. Gave it my all. Had a ridiculously big smile plastered across my face the entire time. I knew when I finished that I hadn't made my goal - I had started slow due to a lot of congestion. (I fully support and cheer for people who walk 5k races, but the majority of them need to not be at the 10 minute mile starting line.) But I still felt amazing - I knew I gave it my all, and that felt fantastic.
It also felt fantastic to cross the finish line of such a huge race, look over, and see a familiar face. I sped up and put my hand on his shoulder.
Matt?

Mary!
I knew he would be there - he e-mailed me a few weeks ago with an apology for his behavior this summer and an inquiry as to how I have been. We've been in contact since, and when I told him I was coming to Chicago, we decided to have breakfast and catch up. In a small diner near O'Hare, I told him about California; he told me about how he's finally seeing a therapist and how he took my advice and did C25k and has fallen in love with running. And as nice as it felt to be with someone with whom I have a little history, it felt even better to see him finally taking the necessary steps to get emotionally healthy; as much as I enjoyed being with him, he couldn't have loved me this summer - because he didn't love himself.
Race times were posted later that day, and I was initially a little upset - I knew I hadn't made my goal, but I didn't think I had been
that
far off. Later, though, the times were modified to reflect an emergency course reroute that ended up extending the course from 3.1 to 3.25 miles. So my official time of
32:15
was updated to include an estimated
30:45
5k time.
Technically, I fell short. I set a goal, and I missed it by seconds. I felt bad for myself for about three seconds, until I realized my average pace was under 10 minutes per mile, and 15 months ago I weighed 345 pounds and could barely walk twice that fast.
I'm not yet where I want to end up. I'm not where I thought I'd be four months after first getting to onederland. I'm on the right path, it's just a little foggy. The fog is lifting, though, and everything is coming back into clear view - my immediate and long-term goals are back in my sights. But I'm still doing terrific things - making progress for myself, and continuing to have a positive influence on others.