As a reward for losing 150 pounds, I decided a few months ago that I would go get my state ID renewed early, so that I could get a new picture. In Illinois, ID cards have your photo and also your weight listed; when I got mine in fall 2008, I weighed 305 pounds but said 295 because I had been losing weight and figured it would be accurate soon enough. (That, and admitting to the 3 in print was hard to do.) Then, over my two years in grad school, I gained 40 pounds to bring me to my biggest. This summer, at 195 pounds, I not only had met my 150 pound weight loss goal, but was 100 pounds lighter than my ID said. It seemed like the perfect reward.
One thing after another came up. I figured I would have to move at the end of the summer - if not back home to Connecticut, then at least to a cheaper place in Chicago - so it seemed useless to spend money on a new ID when I'd just need another one in a couple of months. And, to be honest, with my weight not changing for so long, it hadn't really felt like I deserved a reward. So it got put on the back burner.
Now, fast forward to my life in California. As a university employee, I need an ID card for certain things, like getting into my office and my classroom, using the photocopiers, and taking the campus shuttle buses. Last week, my paperwork finally got processed and I was able to get my faculty ID card made. Comparing the ID to my student ID from grad school (when I first arrived in Chicago - 324 pounds), I feel pretty proud of all I have accomplished: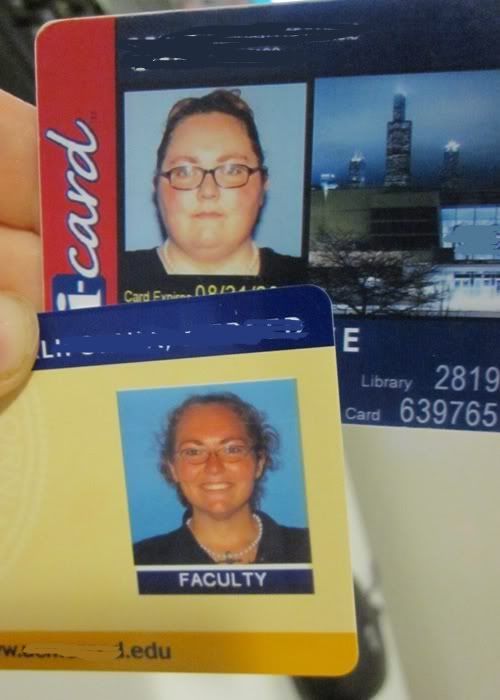 There's consistency - it's me, for sure, with the curly hair I'm still not quite sure what to do with, and the pearl necklace I bought for my senior prom and have worn on all of the most important days of my life since then. But there are changes, too. I have a smile now, which is awesome. I have a tan, which is weird - at first I didn't realize I would need to wear sunscreen every day.
And - I have a neck. A nice one. With a little definition to it.
Yesterday,
Tim
wrote about a great NSV he had with his haircutter commenting on his face getting thinner. It reminded me of last spring, when one of my French coworkers commented on my weight loss, noting that
"...now you have a neck!"
In French, I'm sure it sounds like a lovely compliment. But at the time, I was struggling a lot with my self-image - specifically, with being able to visualize my weight loss - and so I mostly just shrugged it off.
With my weight having essentially stayed the same (plus or minus five pounds) for the past few months, my brain has had the opportunity to catch up a little. I couldn't see it for a very long time, and it was heartbreaking. Now, I can look in the mirror or at my new ID card, and even though I'm not always happy with everything I see, I can at least recognize that the girl I am looking at is me.