A dozen Krispy Kreme glazed donuts weighs a pound and a half. By weight, I've lost the equivalent of 1200 donuts.
And since you have to burn 3500 calories to lose a pound (and each donut is 200 calories), that means I've burned the equivalent of 2625 donuts.
What else does a weight of 150 pounds look like?
Three small bales of hay
600 sticks of butter
Two of my ten-year-old brother
The complete Oxford English Dictionary
One complete Encyclopedia Britannica, plus a 3-gallon tub of super premium ice cream and a human head
Twenty average-sized (7.5 lb) newborn human children
One average 5'11" fashion model, plus a cinder block
One average 5'4" adult woman, plus the average weight of a human skin
One newborn giraffe, plus ten racks of baby back ribs
Two Irish Setters, plus two Chihuahuas
Ten bald eagles, plus an ostrich egg, a Guinea pig, and the average 2-year-old human child
A 2-month-old horse, plus a small bale of hay
Three elephant hearts, plus one sperm whale's brain and two Guinea pigs
Four mid-size microwaves, plus two average human brains
Over 6.5 times the amount of pizza the average American eats in a year
15 times the amount of chemical additives the average American consumes in a year
And, my personal favorite way to visualize a difference of 150pounds: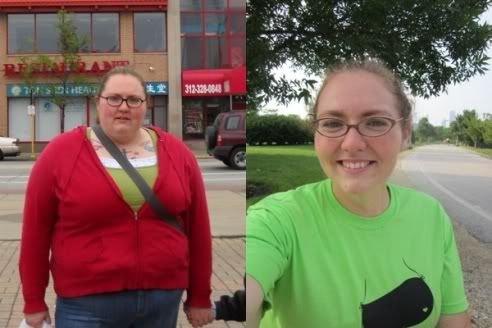 Progress photos! Love them.
What about you?
Using
this list
(scroll a little to find it!), share your own creative visual representation of your weight loss!