It's almost the end of the year, and I'm getting a little introspective. Looking back on my goals for 2011, and thinking about all the progress I've made - not just weight-wise, but also overall mental and physical health. I'll write about it all when I have a bit more time - this week has been quite busy and shows no sign of slowing at the moment, as it is finals week, and now I am heading to the office to make my final exams for my courses. Yesterday was the last day of class and my students applauded as I thanked them for a fantastic first semester. Given all the semester's struggles, that little moment of recognition felt great.
I haven't shared a weigh-in in a while, so I suppose I'm due for one. I've still been weighing daily, but like always, I typically just look at the number and then carry on; since
Ben
has been recording and sharing his daily weights, I've started keeping track of mine in an Excel spreadsheet.
I'm not sure if it's seeing the numbers there (and being forced to remember them and note patterns) or general motivation or what, but it's working.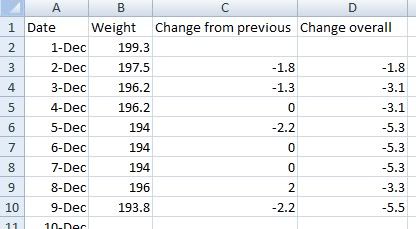 Another visual:
Nothing feels better than moving forward in a good direction.
193 is the lowest weight on weigh-in day that I've recorded since August ... before I left Chicago. My lowest weight so far is 192, and I'm trying not to count any chickens before they hatch, but I'm feeling good about making progress from here.
I was looking over my other progress spreadsheets (yes, there are several) and realized that in 2010, I lost 80 pounds. If I get to 185 by December 31, it'll be another 80 in 2011. Not to mention that 185 is already an incredibly significant number for me, as it would move my BMI from obese to overweight. It's a big goal, but I'm feeling confident and ready to reach it.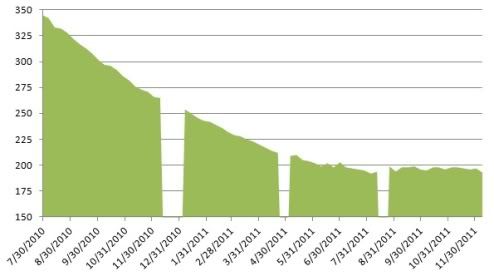 The bumpy little rough patch marks a significant time in my life, full of countless changes; and as frustrating as it has sometimes been, I have no regrets about an entire semester of weight maintenance. But the time is right for me to get seriously focused again. No dilly-dallying. No excuses.