For October, my goals were to keep up the biking, try to find an organized race so I can try for my sub-30 5k, and complete my 345-in-2011 goal. I biked 519.66 miles in October, over 50 more miles than September! And I registered for a 5k in Chicago, which I will be running this Saturday, and a sub-30 finish is looking really good. I'm nervous but confident.
With my training runs, I logged 24.5 miles of running in October - more than double what I did in September - and I officially satisfied my 2011 goal of running 345 miles on October 30! I couldn't be happier. My first mile was in Connecticut, my middle miles were in Chicago, and I ended it in California. *sigh* It's been quite a year.
I can't believe it's November, but it's true. We're officially in the midst of the unholy trinity of difficult fall/winter holidays in terms of food: Halloween, Thanksgiving, Christmas. Halloween was tough, but it's likely to be my only challenge - because of my family situation back in Connecticut, with my folks separating and all, I'm definitely not heading back for Thanksgiving, and whatever we end up doing for Christmas is certainly not going to be the food-based holiday of years past. So I'm breathing a little easier.
I don't want to believe that my weight is the same at the end of October as it was at the end of September, but that's true, too. 196, 196. A very hard pill to swallow after seeing the number of logged miles, but it is what it is. I'm still struggling with binge eating, and am seeking offline help (which I will be writing about soon).
In spite of the consistency with month-end numbers, I can feel changes in my body. I cannot for the life of me locate my measuring tape, but I can feel in my jeans that my legs are leaner and more muscular - it's the biking, for sure.
My workout goals for November are to run more and bike less. I'm not sure if I ever formally announced it on the blog, but I registered for another race the same day I registered for the 5k in Chicago...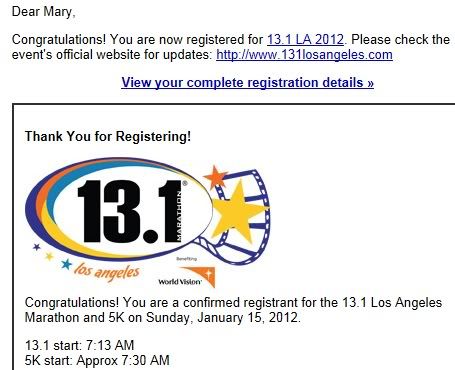 The half, of course. Oh M G, indeed.
So I'm going to keep up with my training for that; in the interest of not killing my knees, I've been taking the bus and getting rides to work from Justin a few times a week. I know ironmen run and bike an awful lot more than that, but I'm not a triathlete - I know my limits, and I don't want to risk any injury.
I also want to incorporate other workouts into my routine - even if it's just Wii Fit, I want to get back into more diverse workouts. I got my teaching schedule for the spring, and it's going to be very different from anything I've done before: teaching afternoon/evenings! So I want to also start looking for a gym to join once the semester ends that I can also use in the spring. I miss the elliptical!
What about you?
How was your October? What are your goals for November? Any races or challenges on the schedule? What's your game plan for surviving the fall/winter holidays?