It's finally starting to look and feel like autumn in central California, and not a moment too soon. It's still relatively warm compared to what I'm used to, between Connecticut and Chicago. But the leaves are changing and starting to fall just in time for my birthday next Sunday, so that's good enough for me. It's funny, as a kid, I always wanted a pool party for my birthday, but seeing as my birthday is in the end of November, that just wasn't possible. I don't think I'll be swimming on my birthday, but it's technically an option, and that's so strange to me.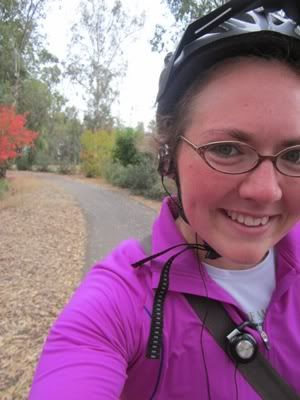 It brings to mind one of my favorite quotes by Margaret Atwood:
As for my birth month, a detail of much interest to poets, obsessed as they are with symbolic systems of all kinds: I was not pleased, during my childhood, to have been born in November, as there wasn't much inspiration for birthday party motifs. February children got hearts, May ones flowers, but what was there for me? A cake surrounded by withered leaves? November was a drab, dark and wet month, lacking even snow; its only noteworthy festival was Remembrance Day. But in adult life I discovered that November was, astrologically speaking, the month of sex, death and regeneration, and that November First was the Day of the Dead. It still wouldn't have been much good for birthday parties, but it was just fine for poetry, which tends to revolve a good deal around sex and death, with regeneration optional.
So brilliant.
One of the odd things about the late onset autumn is that it's felt a little strange eating typical fall foods. I don't crave soups because it's still warm - it still feels like sandwich and salad season. So with the current chilly weather, I've taken advantage and made some soups for loading up my freezer.
Exhibit A: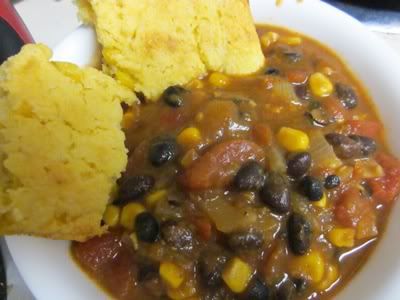 Pumpkin black bean chili. Delicious, nutritious, simple, and cheap. My four favorite things!
1 medium sweet onion, diced
3 cloves of garlic, minced
2 15 oz. cans of black beans, rinsed and drained
1 cup of canned or frozen corn
1 15 oz. can of pumpkin purée
28 oz. fire roasted diced tomatoes
1 cup of vegetable broth
1/4 c. water
1 1/2 tbsp. paprika
1 tbsp. chili powder
1 1/2 tsp. dried oregano
1/4 tsp. cayenne pepper
In a 6-8 quart pot over medium heat, cook onions in water until translucent. Add garlic and cook until fragrant, but not overly browned. Add all spices and stir. Add vegetable broth and let simmer for 2 minutes. Add all remaining ingredients and bring to a boil, then reduce hear and simmer (covered) for 45 minutes, stirring occasionally.
This was amazingly delicious, with a nice subtle pumpkin flavor (I made it a week or so ago, and ate one of my frozen containers last night - the pumpkin definitely was more pronounced in the leftovers). With the ingredients I used, it made six big servings for 195 calories each. I also made my dad's cornbread to go with it - which I also cut into six pieces and froze in individual bags, to take out with the chili as needed.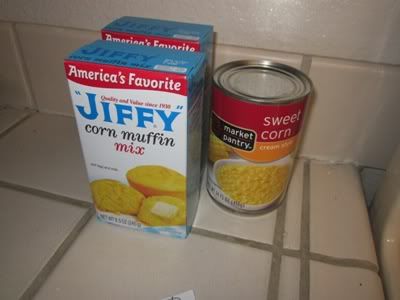 Cornbread à la corn
1 box corn muffin mix (we use Jiffy brand)
1 14 oz. can creamed corn
Cook muffin mix according to instructions on the package, substituting creamed corn for milk and egg.
It's as easy as that! 185 calories for a good sized piece (in the picture above, that's one slice broken into two pieces!). I've also made it with canned pumpkin and a shake of cinnamon instead of creamed corn, and it was quite good.
What about you?
How do you like your chili? What foods scream 'autumn' to you?