I'm heading to Chicago today. I have a few plans, but am mostly going to just relax and take it easy. I'm really looking forward to some time away - as exhausting as it is, all the traveling is nice, because it's some time for me to process all the things I have on my mind lately. Specifically, my goal for this trip is to do some deep thinking about my recovery and what I need to do to get entirely back on track - I keep mastering one area but falling short in others, and I need all around balance if I'm ever going to break this plateau.
Part of my recent struggles has been my relationship stress, for sure - my relationships with my family, my friends, and of course, with Bobby. While in Chicago, I'll be seeing a lot of people, and I'm not entirely sure he will be one of them. We talked about getting together for dinner on Saturday night, but to be honest, I wouldn't be surprised if I leave Chicago without spending time with him at all.
I've stayed pretty quiet about our situation - I guess hearing that reading about my dating attempts was like watching a train wreck made me retreat into myself a bit about it. I'm going to maintain my silence about the details, but I guess the best thing I can offer on the subject is a bit of wisdom from my dad: in a long distance relationship, you tend to learn a lot more about the things you don't have in common than the things you do.
Since I've been writing less here, I've still needed my outlets for unburdening myself of the thoughts and ideas. Skype chats with Lorelei have been great, and I can't wait to see her tonight for in-person catching up. And, of course, there have been countless talks with Justin.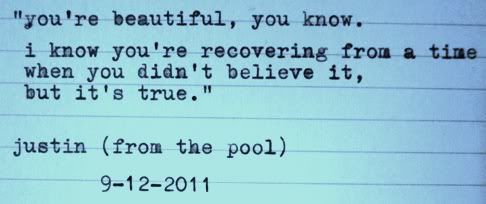 We went out to dinner last night. First we went to the store to exchange my TV, then went to a restaurant downtown - my first restaurant meal since my dad was out here. We ate Indian food and talked, and while driving home, he said that his eating has gotten a lot better because of me. And I told him that was interesting, because I had just told some people about how observing his eating habits has been helping me get back on track with my recovery. And he said,
so, we're good for each other.
True that.
Driving home, he asked what my favorite kind of ice cream was.
Pumpkin, even though it's seasonal.

What about from Baskin-Robbins?

Well, I don't know, because I've never been there. But anything that doesn't have too many chunks. Peanut butter, always.
And we started talking about peanut butter, and how good it is, and how bad it is for you. I explained to him about my problem with jars of peanut butter and bingeing. I told him how I binge - and why. I told him that being able to keep peanut butter in the house will be a huge victory for me someday.
He didn't tell me I'm crazy. He just listened intently. And I cannot tell you just how good it feels to open up to someone who's honestly listening.