Well, my low-activity August certainly met its match with September! Between biking and running, I stayed very active - admittedly less running than I would have liked, but I am already focusing on October as my coming-back-to-life via running month.
I biked a lot in September. Like, a ton. It's almost an embarrassing number when you realize I'm only down 3 pounds from where I was at the end of August. But, all things considered, I'm feeling okay with my overall weight loss progress: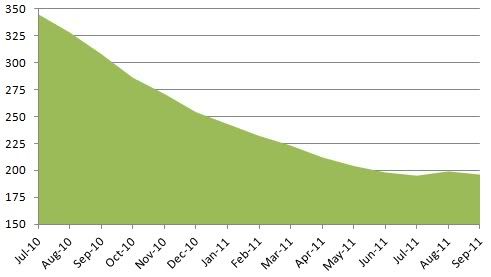 All the biking wasn't a complete waste - it felt good to move, even if my eating was sub-par, and now that I am back to losing, I can feel some of the results of my 465.85 miles of biking - my legs are looking incredibly toned, even moreso than they were before with all the running. My thighs look and feel a-mazing. I'm thrilled.
Speaking of running ... I ran 10.08 miles in September - yikes. It's upsetting, especially considering I was on track to run more than that in one race earlier in the month. But I'm not feeling defeated. I really miss running distances, to be honest. I miss going a little slower than in a shorter race and really taking my time to hit the pavement. My last long run in Chicago was nine miles and was about an hour and forty-five minutes. There's an incredible mental clarity that comes from doing a physical activity for that long - you feel pushed to your limits, and then you push harder, and it's amazing. You did something you didn't think you could, and your reward is a second breakfast, a big glass of water or two, an ice bath, and a feeling like you can reach out and grab absolutely anything you dream of.
I miss that feeling.
It isn't gone forever, though. I'm on the lookout for December/January half marathons - it's California, they race year round. That gives me time to train, plus I won't have to worry about traveling rush since I'll be on winter break. Most of the halfs I've seen so far are on Sunday mornings, which makes things tricky since I teach on Monday mornings and the flights in and out of the small local airport only run a couple of times a day.
Everything is moving in the right direction again, and I couldn't be more pleased. My eating is better, the scale is moving in the right direction, I'm feeling balanced overall, and my stress is definitely down compared to the beginning of September. I'm glad that I have been able to figure out ways to stay active without a gym membership, though I do miss it sometimes, to tell the truth. I miss the elliptical sometimes, and just having a place to go and sweat out my stresses. I've been hitting the bike trails more lately, which is good, but there's something about workout machines that motivates a little differently. I might consider the gym once I get my driver's license, but until then, I don't want to overdo it - biking to work is tiring some days, but to have to bike home after a crazy workout too? I don't want to wear my body out just yet!
So, October goals: keep up the biking, try to find an organized race so I can try for my sub-30 5k, and complete my 345-in-2011 goal. I've ran 323.44 miles so far - that means I'm at 93.75% of my goal with 88 days left in the year. I need just over 21.5 miles in October to meet my goal - I can *so* do this!
What about you?
How was your September? What are your goals for October? Any races or challenges on the schedule? How does the changing season change your workout routines?