Another aspect of Friday's mandatory orientation was discussing the different health care coverage plan options. Since we have thirty days from our hire date to make a selection, I already chose mine a few weeks ago, and wasn't quite sure why I still needed to attend the four hour orientation. The only things keeping me from dreading every second of it were a mini cinnamon chip scone and a surprisingly delicious (though lukewarm) cup of mocha-flavored coffee. Some days, I think like that, and I'm okay with it.
The orientation took place in one of the chancellor's conference rooms, so before the meeting got started, the other new hires and I sat around the oblong table, discussing the health care plans. There was a woman seated across from me, likely in her late 20s or early 30s, with a jean jacket and ornately manicured nails; she was talking about how she accepted the position at the university based almost entirely on the fact that we have great health care coverage. The woman next to her asked if she would be going for one of the more expensive plans, since she needed to cover her toddler-age child and husband, too. She fiddled with the diamond on her ring finger, and then said
Oh no, I don't need that plan. I'm not old enough for cancer. I'm not planning for cancer just yet.
You don't plan for it. You don't get a say in it at all. And neither does your husband or your young child, and I hope it works out that none of you know that kind of struggle.
The ignorance just floored me, though. I sat there with my jaw dropped, but surprisingly, no one else batted an eye.
My mind flashed back to a Sunday afternoon in my apartment in Chicago. Bobby and I had walked to the grocery store and got stuff to make chicken tacos for lunch, and I was exceptionally happy at having cooked a healthy meal with someone I deeply cared about. I cleared our plates and as I put them in the sink, he grabbed my arm, twirled me around, and pulled me in for a kiss.
Noooo, don't, I have taco breath.

I do, too. We're delicious, and I like you.
Besides being terribly adorable, I loved it for being such a real moment. This was someone who made me feel comfortable and lovely, whether I was dressed up for our first date to a concert in the park or if I had taco breath in the kitchen of my little apartment.
We went to the living room, put on a movie, and snuggled up on the couch. He kissed my neck and I just smiled, loving the feeling of being held by him and trying to make every moment last as long as possible. His hand slowly reached over and landed on my stomach, and as always, I pulled back.
What's wrong?

I ... um ... well ... it's just, since I lost all that weight and all, I kind of have some loose skin. And it's the worst on my stomach, so I'm just really kind of self conscious about it.

Well, first of all, there isn't a part of you that I don't like. And second, didn't you see my scar?
I admitted that I hadn't noticed it, and he lifted up his shirt to reveal a long scar on his lower abdomen.
Oh my gosh, what is that from?

It's a scar from my surgery.

Well, yeah, but I mean, from what? Are you okay?

Yeah. I, uh ... I had cancer.
The details of his story are his to tell, so my sharing ends there. But it was a very humbling moment for me. At 23, this boy has been cancer-free for nearly six years. He could be upset, mad, bitter about it. But he isn't. He's alive, and that scar is proof that he overcame something, that he has healed.
Sitting there on the couch, I inhaled deeply to feel brave, then lifted up my shirt just enough to show my stomach. He put his hand on it and told me I was beautiful and that he was so proud of me for this incredible achievement. He could see it. But I still struggled.
I keep hitting this wall with my weight loss - 192 seems to be my threshold, and then I panic. Because my body at 192 feels a very particular way ... it feels extra loose. And I get scared and start dreading what 191 might look like, what 190 will feel like, what the 180s will bring, and by the time my mind gets to thinking about my at-goal body, I'm dizzy and raiding the cabinets for anything that I can use to sabotage my efforts.
It's an odd vanity. I put off losing weight for so long because I was afraid of loose skin. I preferred my body bloated, overstuffed, unhealthy, and unattractive. It was more of an excuse to keep making easy-but-terrible choices than a legitimate fear, but still, it prevented me from taking action. My loose skin might not have been so bad if I had committed to getting healthy any of the other times I tried to lose weight.
But talking to Bobby about his experience, I felt selfish. I dislike this thing about my body, even though I really ought to celebrate it. This loose skin is my trophy - I was incredibly unhealthy, but I brought myself back from the edge. This body is soft and wrinkled, but that's far better than solidly packed with excess fat. I overcame something, and this is how my body has been healing itself.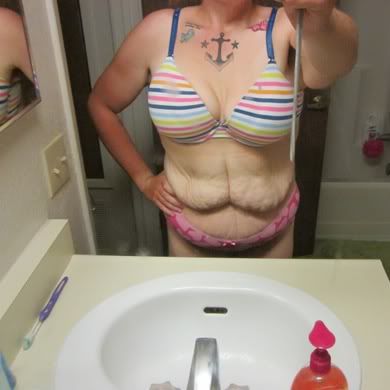 My body has been stretched, mistreated, and malnourished. But now it is exercised, well-fed, hydrated, respected, and loved. My skin is loose, but the body it protects is healthy, and I cannot be anything but grateful.