This has been a pretty good week. It never fails to surprise me how wonderful it feels to eat well and exercise adequately. I biked less this week than I have in most weeks before - I even took one complete rest day! - and still managed a great loss. Perhaps because there was more of a sense of balance, because I wasn't biking like a fiend to counteract overeating and poor food choices. I made mostly good food choices. I biked. I ran. I stayed hydrated. I closely monitored my sodium intake. All that adds up to success! (Now: to just keep doing this for the rest of forever.)
(From my morning commute: fields of cotton plants, ready to harvest)
I'm weighing in at 196 for the week - a 2 pound loss. Slightly behind my Fire Up for Fall goal schedule, but I'm feeling confident that I'll be able to recoup it next week. And even if I don't make the goal on time, I'm just so incredibly pleased to have good losses two weeks in a row. It finally feels like I'm fully back on track, and I couldn't be prouder.
And it wasn't easy.
Though the weekend was, surprisingly.
And so was Monday - we had our book club meeting, and it went really well. I discussed the book like a champ and successfully avoided homemade apple pie with ice cream.
But Tuesday was incredibly stressful for some reason - I was overtired and premenstrual, and probably should have told Justin not to come over (since we had our book club on Monday, we moved our West Wing dinner date to Tuesday). I didn't feel like cooking anything fancy, so I made turkey burgers and chipotle sweet potato fries. He still loved it, and when I apologized for it being so plain, he said that it doesn't have to be so extravagant every week. I still felt like a bum, though - I wanted to cook something nice and new, but I just didn't have the energy. Then, the DVD player in my brand new TV decided to stop working. I have had this TV for barely over a month! So that bugged me. We played Wii Bowling and streamed some of "Fear and Loathing in Las Vegas" on Netflix (decided we liked it infinitely less than the book, and couldn't finish it), and he did his laundry - by all means, it should have been a decent evening. But I had a pudy attitude all night and it was just strange.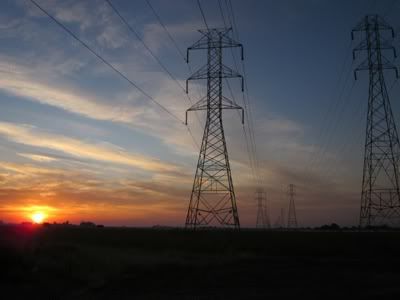 (More of my morning commute - so lovely!)
I sent an apology text the next morning for being so grumpy. He told me I was crazy and that I had been just fine. Then, "premenstrual" became "currently menstrual," and suddenly it all made sense, and the rest of the week went off without a hitch. Wednesday night, he cooked for me and a few of our friends from the university - it's Diwali, so he made a-freakin'-mazing homemade Indian food. All vegetarian, and all incredibly delicious.
During dinner, we all got to talking about Halloween coming up, and we had a pretty interesting discussion about candy that I'm going to flesh out in a post for tomorrow. Some preliminary research, though:
what are your Halloween plans?
Do you dress up? Go to parties? Avoid candy like the plague? Buy some of your favorites and ration it out?
And my biggest question:
for people who have kids, what do you do with them for Halloween?
Do they trick or treat? What, if any, are your rules about the candy afterwards?
Looking forward to everyone's feedback!