My positive picture for the week:
It rained on Wednesday and Thursday - real rain, with thunder and everything - besides one day with a little drizzle for an hour or so, this was the first time it rained since I moved here. It was SO nice, and I took full advantage of it to catch up on sleep. Friday morning, I woke up early and very well-rested, and headed over to the university early to check my email and start working on clearing out Google Reader before the four hour orientation.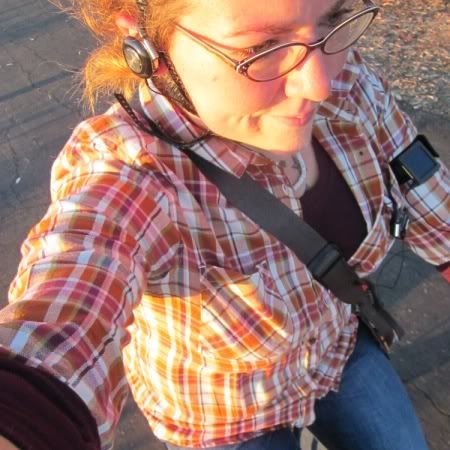 Loving the return of the sun, feeling comfy and casual. It was a really lovely morning.
What have you done this week to help get to your goals?
(1) Lost 1 pound, so I have 10 more to go to make this goal!
(2) Did much better with not eating after dinner - 6 of 7 days is great, but the full 7/7 is my goal for this week.
(3) I registered for a 5k! The Hot Chocolate 5k in Chicago on November 5. Not only do I get to run with some of my Chicago running buddies, but afterwards, we get chocolate fondue. Win, win! (Personal goal: sub-30 or no fondue!)
(4) I dipped into my savings a bit to cover my next flight to Chicago, but I am okay with that - I'm expecting one last check from the University of Illinois, a refund from a Christmas club-type savings account I was direct depositing into in case I didn't get rehired. Part of it will cover the plane tickets, the rest will go into my savings.
What have you done to make yourself feel fabulous?
My electric bill was 1/10 what I had planned for (my crazy officemate said to expect $300+ - she keeps her AC on all the time, though), so I had some wiggle room to go clothes shopping, which I desperately needed. I have no autumn clothes! I got long sleeve shirts, sweaters, and a couple of really cute dresses on clearance (summer dress + leggings = California autumn dress).
What is your go-to food or activity when you've had a bad day?
My triggering comfort foods are all rooted in my childhood and usually involve either bread or pasta, and always cheese. I usually pick savory over sweet.
In trying to not use food in that way, I've been seeking alternative ways to cope with tough days. My favorite way to spend a bad day is napping. There is very little that a good power nap can't cure.
What's the last thing you did that you were really proud of?
I got up early yesterday morning and watched the online coverage of the Chicago marathon. It was so incredibly inspirational! And then I went out and ran. 2 miles in 18:51. I was amazingly proud - definitely a personal best!
What was your favorite school subject, and your least favorite? Why?
Favorite - languages, always. Least favorites were math and science. I was good enough at them, I just never enjoyed them.