My positive picture for the week:
After an exceptionally long silence, I finally got a chance to video chat with all my siblings at the same time.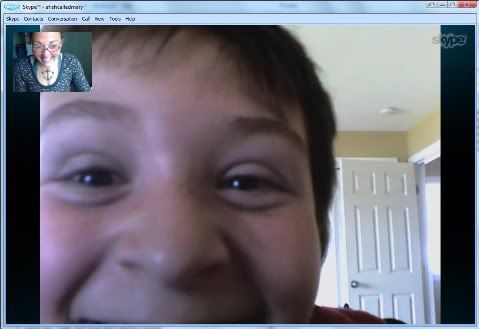 And oh, I missed this face SO MUCH.
Things have been tough between my mother and me, and between my father and my sister Katie, but that doesn't mean things need to be strained between us kids. We're trying to work on that as a group, and things have been a lot better lately. Without a doubt, these strained relationships have contributed to my recent struggles, so having reclaimed some stability here feels amazing.
What have you done this week to achieve your goals?
(1) Struggling with weight again. Was up to 201 on Friday, at 199 now.
(2) Understandably connected to goal #1. I am going to get a 7/7 week just yet!
(3) I ran three times this past week! Started with two miles runs, all sub-20 (one sub-19!). Attempted a 2.5 mile long run yesterday but had to make a pit stop at home because I was feeling sick ... went back out an hour and some water later, for a total of 3.75 miles in 36:49 (a 9:49 pace) - feeling confident! 19 days to race day!
(5) I finished this goal! On Saturday I did #97 - met one of my blog friends in real life!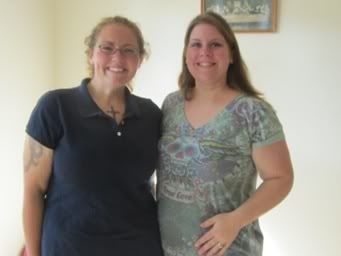 The lovely Cynthia from
Partners in Kind
and her husband Michael came by and we had crêpes!
What have you done to make yourself feel fabulous?
Ran consistently for the first time since I got here - it just feels *so* good to be back in a routine.
It's half way through the challenge, you can change 1 or more of your goals (max of 3) if you want to ... what are you going to do and why?
I thought about this, and I decided not to change any. Just because I'm not doing as well as I want to doesn't mean I'm going to jump ship! Gotta keep rowing. I'm mostly nervous about #1 - getting under 185 pounds. Five weeks and 14 pounds to go is a lot, but I'm going to try my hardest to make this goal ... particularly because my birthday is the day before the last day of the challenge, and I'd love to start my life at 25 with a non-obese BMI for the first time in over ten years.
What's your worst bad habit and have you ever tried to tackle it? Do you want to?
Well, binge eating, for sure, and secret eating. Making progress, but realizing lately that it's something I have a lot of work to do in order to get it under control. I was doing exceptionally well for a while, then started to struggle, and haven't really come back from that slip, at least not to the level of control I want to have over the situation.
Besides my food issues, I'm a nervous nail biter. It's such a bad habit, I know. But especially when I'm trying my hardest to avoid binge eating, my nails are a mess because I can't leave them alone. I usually keep them trimmed pretty short so I don't have the choice of biting them.
Would you rather have Burgers for feet or Sausages for Fingers?
Definitely sausage fingers. It would be really tough to find shoes that fit my burger-shaped feet, but big gloves aren't too hard to come by.