When I first met Justin, he was with two of his co-workers down in the complex pool. They are all Ph.D. students interning at the university where I teach, and since we're all from different parts of the country and only know each other, we talked about getting together once a week for dinner and socializing.
The first week's dinner was at Adam's - he made quinoa with peanut sauce and veggies. He also made us all juice with his fancy new juice machine he bought after seeing that juice documentary that everyone's going nuts over these days. For dessert, Justin made a mixed berry cobbler.
The next week was at Justin's - he made Indian chickpea curry with roti and a cucumber yogurt salad. All our meals need to be meat-free since Minal is vegetarian, and as we ate the salad, we learned that the newly added fifth member of our group, Kristin (another woman who lives in the complex and works at the university), is a vegan (but socially vegetarian), so we're going to try to be as vegan-friendly as possible in the future. It's a fun and healthy challenge.
And so this past week, it was my turn. I made three kinds of ravioli - pumpkin/hazelnut/feta, beet/pear/feta, and spinach/mushroom/garlic: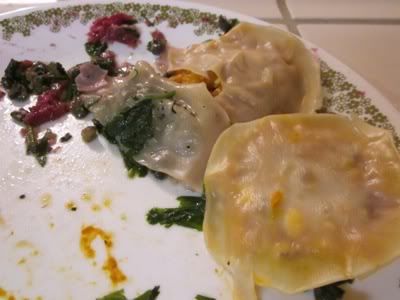 Mostly the spinach/mushroom/garlic ones since they were vegan, and instead of using my own homemade pasta, I bought vegan wonton wrappers - they were not only vegan, but they saved time as I got ready for everything else. I also made a vegan chocolate cake with ginger and cinnamon (my own recipe, with the spices inspired by an Italian film I love called - wait for it - "Ginger and Cinnamon.").
Justin asked me earlier in the day if he could make salsa for an appetizer - he has a Slap Chop and has therefore been looking for any excuse to cut things into small pieces. It didn't go with my Italian theme, but it wasn't a bad idea. So, we had bruschetta.
Bruschetta is an Italian tomato and basil salad, served cold with pieces of toasted bread. It's a very simple appetizer, and could easily be eaten as a light lunch.
The good news is, it's incredibly delicious.
The bad news is, it got gobbled up before I could get a picture of the salad.
I did get pictures of the toasts before I prepped them and as they went into the oven, though!

Yum!
5 plum tomatoes
1 bunch fresh basil, roughly chopped
4 garlic cloves, minced
6 tablespoons olive oil
3 tablespoons balsamic vinegar
1 French loaf, sliced into rounds
Combine two minced garlic cloves with about a quarter of the chopped basil and 3 tablespoons of olive oil; set aside. Chop tomatoes and combine with remaining basil. Add balsamic vinegar. In a small skillet, heat remaining olive oil and brown remaining minced garlic. Add to tomato mixture; gently stir to ensure consistent coating. Refrigerate for several hours to let flavors mix well.
Ten minutes before serving, lightly brush one side of the French bread rounds with olive oil/garlic/basil mixture (you will likely not use all of it) and bake them for 8-10 minutes in a preheated 400º F oven.
You should not pre-assemble the bruschetta so the toasts don't get soggy. (Unless that's what you're into. Then, by all means, top away!)
It's a very summer-y dish, but since the temperatures are still in the 80 and 90º range here, no one seemed to mind. Like I said, it disappeared before I could even get a picture! I'll definitely be making it again - though I'm not sure I have a choice in that, it was their request!
What about you?
What are your favorite dinner party appetizers?