I promised a new, healthy recipe for Sunday, and then I realized that I was going to be out of town for the weekend.
So what's a girl to do?
I made one anyway: roasted stuffed peppers, two filling halves for just under 250 calories. A recipe of my own invention, sort of. I've seen versions here and there, but this mix was a little bit of what I craved and a little of whatever I had in the fridge.
And wrote up a little post to go with it.
And forgot to hit publish.
*sigh*
Better late than never, I suppose. They were totally yummy, and super colorful, so it's worth the wait, I think!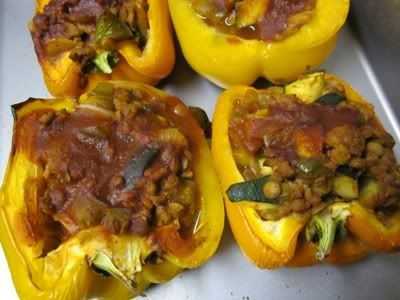 Three medium sized bell peppers (I used one green, one yellow, and one orange to make it more colorful) - two halved, one chopped
1/2 cup lentils
1/4 lb. ground turkey
1 small zucchini
1 small sweet onion
1 tsp. garlic powder
1 cup tomato sauce
Cook lentils according to package, set aside. Cook onions for 2-3 minutes, then add chopped bell pepper and cook for 2 more minutes. Add ground turkey and garlic powder and cook thoroughly. Remove from heat and add lentils, zucchini, and most of the tomato sauce (reserving a small amount to drizzle over the top). Take the two halved bell peppers and scrape out ribs and seeds. Fill the halves with heaving scoops of filling, then drizzle the tops with remaining sauce. Bake in a 350º oven for 30 minutes.
They were so good - filling, but not too heavy. Justin gobbled up the leftovers within an hour or so of me putting them in the fridge, so they're man approved!
I've been seeing a lot of Justin lately. Between the dinner parties and just getting together to share a meal or a homemade fruit smoothie and watch an episode of one of the TV shows I have on DVD (so far we've seen one episode of "30 Rock," but I'm trying to steer him more towards "Pushing Daisies"), we've spent five evenings together in the past week or so ... every night since last Monday except the three when I was in Chicago.
It's nice - I like not being alone, especially in the evening when I'm most likely to binge. But also, it's nice to be around someone who doesn't have weight/food issues. I like observing how he approaches food and the way he eats, and thinking about some of my own disordered eating habits - the ones I'm working on changing, and the ones I've recently become aware of. (Which, of course, I will write about soon.) It's really quite interesting.
Sunday night, after my sixteen hours of flights and layovers, I got back to my apartment and he came over to see how the weekend went. (That update will come tomorrow.) And then I went to his place, where he cooked some Indian spiced lentils and we had a couple of cocktails. I told him about being a Culinary Historian when I was back in Chicago, and he laughed and said we won't find anything like that where we are. I said I would start something up, then, and he said he'd be a member, and with two of us, we'd have a club. Our dinner parties kind of count, he said.
Things are looking up in central California.