My last official weigh in when I was in Chicago had me at 192 pounds.
My lowest weight after that was 189, after two days of sobbing and being too upset and nervous to eat.
The appetite came back, and I fed it with junk. I said I wouldn't binge, but I did. Big time. (I'm going to be writing about it next week.) And the day I left Chicago, I was at 194 pounds.
I had great intentions for the road trip, but fell off track incredibly. And the first week in California was full of stress, anxiety, restaurants, and really terrible off-plan decisions. I was back to old habits almost entirely - eating huge portions of foods I haven't touched in months, drinking soda, and pretty much no physical activity. After the move, I tried running, but could only do 3 miles at best, and it was discouraging; according to my half marathon training schedule - I'm supposed to be doing double-digit distances at this point.
Last Friday, I weighed in at 199, and I knew something had to give. It wasn't over 200 pounds, but it may as well have been - I could no longer say I had lost over 150 pounds, and with that, I realized how easy it would be to regain everything.
Last Thursday, I got my home internet connected, and started tracking on MyFitnessPal again. Last Friday, I got a bike and started riding everywhere - at least ten miles a day (that's my daily commute), usually more since I've been exploring the city. Last Saturday, I ran in my first organized race since the Bastille Day 8k. Didn't set any personal records, I'm sure - but I finished, and it felt great.
And today, I'm weighing in at 194. I'm back on track and it feels fantastic. I've got my second wind, and I'm ready to get back to work on looking and feeling my best. I feel healthy again, and that's so incredibly important.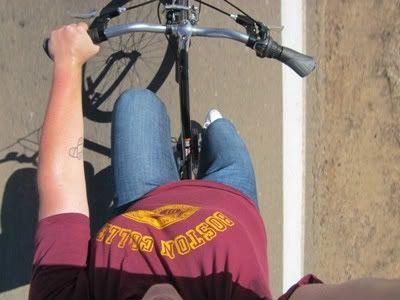 I don't teach Fridays, so with Labor Day on Monday, I'm facing a four day weekend. I wish I could go back to Chicago for the weekend, but money will be tight this first month until I get paid. So, I'll be writing letters, finally finishing with my unpacking, biking for sure, and attempting to run again. It may be a while before I get back to my old distances, but I'm okay with that - I just miss running!
What about you?
What are your plans for the weekend, whether it's a long one or not?