This week, I've been thinking a lot about the things I have eaten lately and have looked for patterns, things that keep coming up with my meal and snack habits so I can see if there are triggers there, beyond the emotional/stress-based ones. I have definitely made some notable discoveries.
Something I have a big problem with is nuts/nut butters. I had some single-serve/100-calorie packs of trail mix with peanuts, raisins, and chocolate chips. 100 calories of trail mix is not very much at all, and I'd end up eating two or three before I knew it. I also got into the habit of having a jar of peanut butter on hand while my dad was here in case he had any diabetic blood sugar emergencies, but by the end, it felt like I was using his need to excuse and enable myself. The cycle was tough: buy a jar, tell myself I won't have any this time, tell myself I can have just one spoonful as long as I have it with an apple, eat spoonful after spoonful when the stress kicks in, need to buy a new jar.
Nuts and nut butters are healthy within reason, but they're also very high in calories, and for now, I want to maximize my calories and feel in control with my eating. Even if there's a lot of protein, I am never satisfied by one serving. It just triggers me wanting more. I know some people swear by PB2, and I've gone to the website with the intent to order several times. But at the same time, I'm conflicted. I want to have a healthy relationship with food, and for now, I think that means complete nut butter abstinence. Some day, I might be able to have a jar of peanut butter in the house and have it last longer than a day. I might never be able to keep peanut butter around again. Either way, when focusing on my present struggles, I know they are off limits.
Somewhat related to nuts is bars like Larabars and Clif Bars. When I buy just one, I don't seem to have a problem, but I cannot seem to control myself when I buy a few at a time. I want to be able to keep them around for work snacks without having to go to the store every single night like I have done this week; I have Fridays off, so I think tomorrow I will head to Target in the morning, buy a box of Larabars, and immediately bring it to the office. There's always someone there, so I'm highly unlikely to binge at work. I just don't feel strong enough to keep them in the house right now.
I have made a goal this week of trying to eat as many whole foods as possible, to avoid packaged and processed meals and snacks. I've done pretty well so far with bringing fruit to the office and keeping a separate water bottle there so I can stay hydrated. My meals have been less than stellar - good on calories, but still to processed, as I am working through a big pile of Weight Watchers frozen meals that I got to keep myself fed while I figure out the grocery shopping situation around here. In Chicago, I'd go to the grocery store a few times a week for fresh produce and whatever odds and ends I needed; here, there are a few small grocery stores, but since I'm on the bike for now and the temperature is still in the mid to high 90ºs from mid-morning to the late evening, it's tough to figure out a good routine. I've been going either Friday or Saturday morning at 6:30 a.m. - the stores open early, and it's still in the 70º range, nice for biking with a bag full of groceries on your back. We'll see how I keep up.
I've also gone to the local farmer's market the past two Saturday mornings. It's very small, but there's a family there that sells local grapes. Oh. My. Goodness. So delicious! They're amazingly sweet and crisp. I got a couple of pounds and counted them out into little containers to keep in the fridge or take to work with me.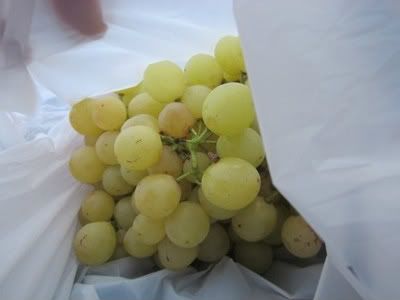 As long as I stick to them at the farmer's market and not the woman from the bakery with all her homemade breads, I'm good. (To be fair to the bread woman, though, it's been easy to resist her autumn varieties because it doesn't feel much like autumn around here just yet. I don't typically crave pumpkin-flavored things until I can regularly wear sweaters.)
So, I have a lot to think about in terms of my meal planning and getting entirely back into a healthy eating routine. I've been feeling a little under the weather all week, but the calories are still being burned and the motivation is back in full force. I'm really looking forward to Monday and the start of the
new fall challenge
- I'm getting back to basics with my goals, deciding on them this weekend.
What about you?
Do you keep food journals for reasons other than counting calories - like to notice patterns, triggers, etc? What are your favorite healthy autumn foods? Will you be joining us in the fall challenge?