Kind of a fluff post, but I'm okay with that - I'm working on a pretty heavy post, didn't finish it for today. And I'm okay with that, too, because I had a medium-busy day yesterday.
I proctored an exam for one of my classes, spent my office hours grading, biked home from work and decided en route to go to the grocery store and get ingredients for a healthy new recipe (check back on Sunday!). It came out deliciously, and then, exhausted from biking in 98º heat with a bag of groceries balancing in my purse (it was a spur of the moment grocery trip, no backpack!), I took a nap.
I woke up when Justin texted me a few hours later - then he came over for dinner and the second episode of "Pushing Daisies," which we started on Monday over smoothies. I'm glad to be watching it with someone because that way, I am sort of distracted from the fact that the main character makes pies and I don't get triggered.
After the show, I went to my room and video chatted with Bobby. He was very giggly, it was ridiculously cute. He made a blanket fort and brought me (his laptop) in with him.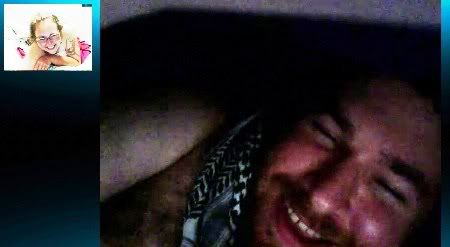 That face! *sigh* I can't wait to kiss the hell out of him this weekend.
I have become an expert at Day Ones, but haven't survived a Day Two in a while. So now, after two days in a row where I felt really good about what I ate and how I moved? Everything else feels good, too.