My positive picture for the week:
On the side of the street in Chicago: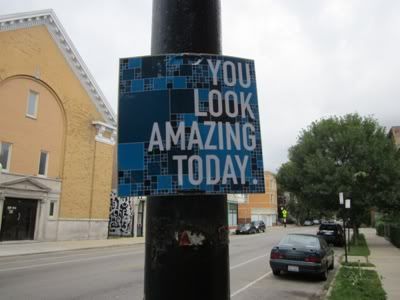 Oh, how I miss that place!
What have you done this week to help you achieve your goals?
(1) Weighed in at 199 - 14 pounds to goal!
(2) Did okay with not eating after dinner - some good days, a couple bad ones. Looking to improve for this week, for sure.
(5) I completed #61 (treat a friend to dinner) on Friday - I actually treated TWO friends! We ate delicious Vietnamese banh mi sandwiches at Saigon Sisters in the French Market in Chicago. So perfect.
What have you done to make yourself feel fabulous?
I wore scandalous pajamas from Victoria's Secret on Friday night and didn't obesess over my loose skin. I started to, and then realized that I look amazing and the loose skin is a sign that I'm doing right by my body, that I've lost weight and am getting healthier. And I just owned the heck out of that nightie. Very cute.
What is your talent? What are you good at?
I'm not sure I have one great talent - I'm a "jack of all trades, master of none" kind of girl. I have a lot of interests and some skill after pursuing them a bit, but nothing really exceptional.
What's been the highlight of your week, toot your horn, what are you proud of?
Spending 28 hours on planes and in airports and not overeating! It's so easy to eat lots of junk there, but I stayed in control - plus I walked around a ton to burn whatever calories I could!
What's your guilty pleasure TV?
Hmm ... I'm not really a TV watcher. I'd say "The Golden Girls," but there's no guilt there. I love them and I am proud!