Okay, so this week's recipe isn't entirely new. But the filling is! I
made ravioli before
, when Lorelei and I were getting ready for the Shamrock Shuffle back in April. Those were eggplant and goat cheese filled.
These today? Better.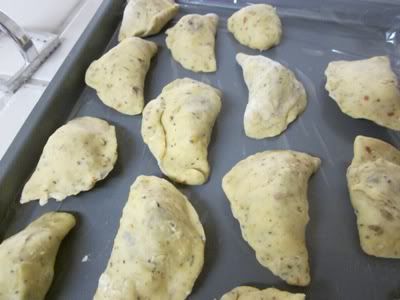 The filling was one medium eggplant, roasted and scraped out from the skin. Add that to a sautéed mixture of six ounces of browned hot Italian sausage (if I could find turkey sausage out here, I'd use it - had to use pork this time) and eight ounces of finely chopped portabella mushrooms, stir to combine, and let cool enough to work with easily. Fill the ravioli, then place them on a cookie sheet and flash freeze them. Put them in plastic bags in individual servings for quick lunches or dinners - when you cook them, they'll take 4-5 minutes in boiling water, or until they float to the top.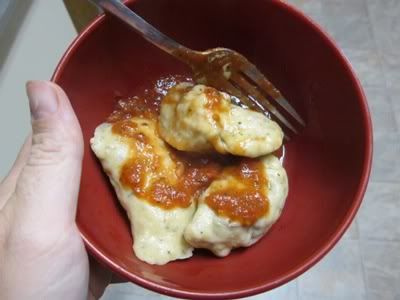 I put the recipe into MyFitnessPal - my batch made 33 ravioli, so they worked out to about 65 calories per raviolo. (Did you know that was the singular of ravioli? I miss taking Italian.) Totally delicious. A bit time consuming, yes, but worth it.
The reason I made them on Saturday is because I am having dinner with one of my new California friends on Monday. His name is Justin, and he not only works at the university, but lives in my apartment complex. We met shortly after I moved in - he was in the pool with a couple of his co-workers (Adam and Menal) and I was in the hot tub with my dad. We got in the pool to cool off while they went in the tub to warm up; when we got out of the pool, they said we could join them in the hot tub if we wanted. We got to talking, and that's when I found out they all worked at the university.
A couple of days later, I was in the hot tub again when Justin came over and sat down alongside. He was doing laundry in the office nearby and saw me so he came over to ask how things were going. He said everyone was getting together for dinner at Adam's the Wednesday that week if I'd like to join them. I said sure, and he asked for my number to let me know when we'd be meeting up.
The day before our group dinner, though, he texted me and asked if I wanted to go swimming that night. I said sure, and we hung out for a little while, drinking beers and talking in the hot tub. Somehow it came up that I don't know how to drive, and he said he'd teach me. He asked what a good payment would be, and I said I'm a pretty good cook. He seemed pleased, so I will be cooking for him - one dinner per driving lesson. Sounds fair to me - I love cooking for people, and as much as I love biking, I definitely need to learn how to drive.
So lesson one's meal will be funded by homemade ravioli. Hopefully he likes them so I can continue to learn how to drive for far less than a driving school would charge - not to mention the spared embarrassment of having to sit with a bunch of teenagers and learn about street signs.
What about you?
What's your favorite ravioli filling? How old were you when you learned how to drive?