Yesterday, on my way home from work, I looked down at my wrist. I wasn't expecting to get paid until October but got a two-week paycheck a few days ago for my work in August, so I took part of my last paycheck from this summer's article writing job and splurged on a treat for myself, a reward for surviving the summer: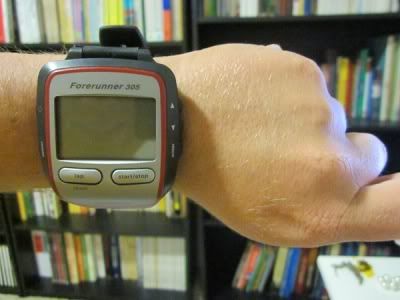 And yesterday, I wore it when I rode to and from the university.
I was cruising down a hill, going as fast as I could - it was over 100º out, so the breeze blowing on my face felt incredible. Looking at the Garmin, I clocked in at 20.2 mph. That's as fast as a car can go, and my legs, with the help of the sloping hill and a little physics, were moving me at that speed.
I thought about one morning when I was an undergrad; I was up very early, unable to sleep, so I went for a walk around the campus. There was a speed detector that the police set up on the side of a road, and it managed to mark my pace: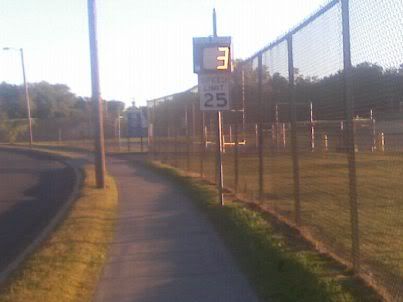 I took a picture and sent it to friends, joking that it captured my speed because I was as big as a car; they laughed and likely thought nothing of it. I was laughing, but as a means of hiding my deep sadness and discontent with my life. Yes, I accomplished a lot of wonderful things as a super obese person. A lot of people loved me and were proud of me regardless of my physical condition, but the problem was that *I* didn't love me. I wasn't proud of what I was doing, because I knew that it wasn't all I was capable of. I needed to invest not only in my mind, but in my physical self, to nurture my self-confidence and self-esteem with healthy eating and an active lifestyle.
Coasting down the hill yesterday, there was an incredible feeling of lightness that washed over me. I was never as big as a car, but now, I'm as fast as one. With my fingers clutching the handlebars and my feet on the pedals, I control where I go, if I stop or detour, and how fast I get to wherever I'm headed. Hurtling towards home, it felt like cruising towards my goals - I'll get to where I want to be, and in the meantime, I'll try to enjoy the sun on my face and the breeze in my hair.
In the past few months, I've struggled intensely; the past three weeks or so have certainly been the worst. I'm not at my goal weight - in fact, I've lost and gained the same five pounds for nearly three months. I've been doing well with biking a lot but I've been struggling with my eating again since this weekend. My relationships are all in a period of transition right now. I'm stressed beyond measure and feeling very unsure about my new life - the one in California, yes, but also, the one in this new version of my body. It's all very overwhelming, and they're certainly major causes/side effects of my current situational depression.
But that's the thing - this depression is exactly that ... situational. It's normal to be upset because things aren't going well. It's normal to feel stressed and angry and anxious because you've sacrificed every constant and every comfort in your life in the past year in pursuit of a healthier future, or because you've been unemployed all summer and things don't seem to be looking up, or because the people you love more than anything decide to cut you off entirely for seemingly no reason at all.
Now it's up to me to figure out how to cope with the situations - how to treat them in the moment so that I can survive them and come out better on the other side. It may mean not weighing for a while, or it may mean recording my weight daily again. It may mean completely rebooting my relationships, or it may mean ending them completely. It could mean any of a number of things, I need to sit down quietly with myself and really figure out the next step. Ultimately, though, the decisions will be my own, and that's the strongest defense I have over my depression: when I'm feeling in control, that's how I know I'm back on the winning side of the fight.