I have a little laminated piece of paper that I keep in or on my desk - it's a hospital bracelet from my freshman year of college, and when times get tough,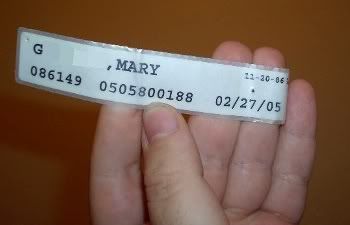 it moves from a drawer to somewhere more prominently displayed so I can be more mindful of it.
When I went to college, I decided not to go to UConn like the majority of my graduating class, but a smaller university where I could try and meet new people. I loved my solid group of friends, but I also wanted to expand my horizons, and I knew that if I went to UConn, I'd just cling to them and not make any attempts to branch out.
At my university, I met a lot of people right away, and things seemed to be fine. But these people were incredibly different from the friends I had grown up with - we had a lot of different values and interests, and it was very tough for me to adjust to that social circle. That, paired with the stress of being an honors student trying desperately to keep up a high GPA, was overwhelming, and towards the end of my fall semester, a deep depression set in.
I was not a stranger to dark feelings - I had been very depressed in high school, too, but managed to keep it under control since I had such strong support in my life. It was easy to overlook the bigger issues when there were good people to help pass the time with. But in college, I felt alone with the people who were contributing to my anxieties, and it didn't seem like there was any way out.
My depression manifested itself in a number of ways. Initially, I would binge eat in order to attain a level of numbness. Eventually, though, the numbness was there whether I ate or not. I cut myself all over my arms, hoping to feel
anything
; I just wanted to make sure I could still feel. The bleeding was minimal, but the release felt good - I had been hurting inside, and now I was hurting outside, too. And hurting isn't numbness.
These feelings came to a high point (or a low one, as it were) one weekend, and when I returned to campus after a weekend home, my roommate was waiting with some of the housing staff to talk to me. A few questions and a look at my arms later, and I was being helped into the back of an ambulance and transported to the local hospital. The whole time, I was worried that they wouldn't be able to lift the gurney because I weighed so much.
There were a few tests to make sure I hadn't taken any pills or poisoned myself, and then I was sedated. I remember that night perfectly - I was in the psych ward, and there were people around me that I decided were "legitimately crazy" ... I was sad, but I didn't belong there. I couldn't sleep, and I still felt really depressed but couldn't move. So I laid there, singing "This Place is a Prison" by the Postal Service. To this day, I can't listen to their "Give Up" album without being overwhelmed with memories of that dark time.
The next morning, I called my dad and had him pick me up. He gave me a hug when he saw me in the hospital bed and cried a little; it was the first time I'd seen him cry since my uncle's funeral when I was ten years old. He brought me home, and I had to stay there until I saw a psychiatrist and was cleared for return to campus.
I went to therapy for a while and was given antidepressant medication, but eventually stopped both. The meds bothered me - I wasn't suicidal anymore, but in situations where you're supposed to be sad, I just felt neutral. In the back of my mind, I knew I wanted to be upset about whatever the issue was, but I couldn't bring myself to cry or feel anything. I wanted to be able to control my feelings - to be happy as often as possible, and to be able to deal with sadness as it occurred.
I figured out a system that worked for me and I was able to keep my depression in check for a long time: I would get sad sometimes, but I always found a way to balance it all out - with a phone call to my family, an online chat with my friends, or with going out with any combination of the two. I was no longer actively thinking about ending my life, but the option also wasn't completely off the table for me.
Tomorrow: part two - being passively suicidal, and how weight loss has affected my depression.