Yesterday was absolutely wonderful. I usually feel that way on the days when I get back to feeling balanced with my food, water, and exercise; I always fall asleep wondering how I could get so far off track when doing the right thing feels so good.
I woke up late-ish - later than I get up during the week for work, but still before 8 a.m. - when I got a good morning text message from Bobby. We texted back and forth for a bit before he had to work, and I hopped on my bike to go to the grocery store and deposit my last paycheck from the article writing job. I got home, put a chicken in the oven, laced up my running shoes, and hit the streets.
I only did a mile and a quarter before it started to pour rain - but it was a 9:48 mile, and that felt good. If I was in Chicago, I would have spent the morning running my first half marathon - but I didn't let the what-might-have-been let me feel defeated. I'll run a half someday, for sure. My mind was distracted for a while, but my body still loves to run. I'll need to retrain my body for distances, but that's not a big deal - goodness knows I love a challenge.
The rain was a surprise, to tell the truth. It's been sunny and hot every day since I got here over three weeks ago, without a cloud in the sky. The woman at the leasing office said it hardly ever rains here, so when it happens, it takes you for a bit of a loop. It's weird because it rained so much in Chicago this summer, you'd think I'd be used to it. But I guess I've grown a little more accustomed to my small central California town than I thought.
I came home and ate my breakfast and thought about yesterday's freakout. What triggered it, and what has triggered everything lately. Weekends seem to be very tough for me - I can hold it together alright during the week, but days off cause me to panic. Last week? Four day weekend. The time off causes me to panic, I think, because I feel sort of trapped here. In Chicago, I could jump on the bus or the el and explore a little. There are a half dozen buses here, but they all go from one shopping plaza to the next, all of which are reachable on my bike. I have the means and the desire to explore what the area has to offer, but without a drivers license, I'm sort of stuck here.
I'm trying to meet people, really. The town I'm in is incredibly small, but I'm making efforts. I met a woman at the 5k I did a few weeks ago who is very well-connected around town, and I met up with her on Thursday night at a small market event downtown.

She introduced me to a ton of people - mostly middle-aged folks, which seems to be the town's major demographic. There's the university and the college kids, and then there are older people. Not too many folks my age - or so it seems. I'll find them.
I finished my breakfast, threw a load of laundry into the washer, and texted back and forth with Bobby while he was on his break from work. We made plans to video chat for a few hours later when he got off of work, and in the meantime, I picked the meat off the roasted chicken for a few days' lunches, talked to my dad on the phone for a bit, and cleared out my Google Reader.
Our video chat date was fantastic, per usual.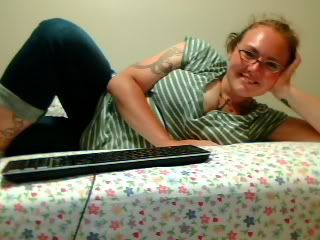 Laying there, making plans for when we're together in a week and a half (!!!), him reading to me from a book he keeps near his bed. *sigh* Just seeing and hearing him made me feel so happy, especially when we were talking about the excitement of being together again. It's as close to snuggling as we can get with 2134 miles between us, but for right now and for what it is, it's lovely.
He had to go have dinner with his family, so I hopped on my bike and headed to the university to get some work done for the week. The ride out was really warm, but it cooled down a lot on the ride back, and it felt great to have the wind in my face and the sun setting and everything feeling like it was going to be alright.
I had a giant salad for dinner, then spent the night hanging up laundry, washing dishes, and preparing some veggies for today's lunch. Low-key, but after my heavy Saturday, it was just what I needed.
I ate well, I stayed active, and I "spent time" with the ones I love. All in all, a good, healthy, balanced day. Now, to repeat this as often as I possibly can...