Not to be forgotten, I finally give you my Beat the Heat Challenge wrap-up!
My positive picture for the week:
Riding on one of the bike paths near my apartment: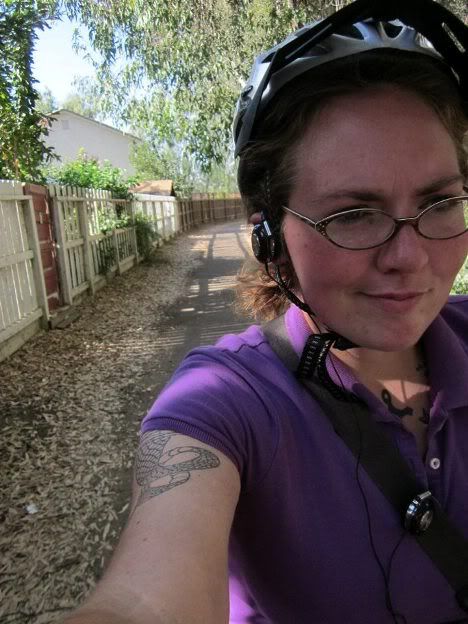 The scale may not be budging, but I haven't stopped moving. I've got the exercise down, now just need to get back in control of my eating. Pictures like this are super motivating - my arms are looking awfully nice, something I'm proud of. My nice arms are riding a bike, something I could not have done at 345 pounds. And these arms are riding a bike in California, somewhere I am because I have become bold and courageous and more self-confident as I have become healthier. I have an awful lot to celebrate beyond the number on the scale.
My challenge wrap-up:
The eighth principle for the challenge was
start something
. And this week, I really feel like I made that happen.
I biked at least 8 miles every day (at least 10 on the days when I worked, and at least 15 on the weekend). So I'm starting to find healthy routines here in my new city.
I had my first driving lesson! A few laps around the apartment complex parking lot, learning which one is the accelerator and which is the brake. So I am starting to take steps towards conquering fears and being able to expand my world a little bit.
I did some deep thinking and made some big decisions about my relationships and the direction in which I want to be taking them. So I'm starting a new phase of my adult life, with some friendships in repair and without others at all. It's a little terrifying, to be honest, but the saying goes that when you're scared, that's how you know you're on to something big.
In previous challenges, I've had very specific goals, and it felt so good to meet them - especially weight loss related ones. I need a fall challenge so I can get back to that kind of goal setting, but I'm very pleased with how my BTH emotional weight loss challenge went. I can't say I have a single regret about the summer.
As far as my
summer bucket list
... a lot of these things got pushed aside for bigger priorities. But technically, summer isn't over yet. Sixteen more days to work on my goals. I had made seven and have already finished two. I decided to let one go (the Ironman, after hurting my knee swimming), and I won't be back in Chicago in time to walk to Devon Avenue with Lorelei. That leaves writing ten letters, finishing one painting, and running a sub-30 5k. I'm going to do two of these - mark my words!
What about you?
How are you feeling about your summer goals? Know of any good fall challenges coming up?