I've got a bit of a fluff post today, as I'm working on Part 3 of my maintenance posts; I had an interesting first date yesterday and got home late-ish, and I was too tired for my brain to properly process the thoughts. I didn't intend for them to become a series of posts, but I'm loving the catalyst for conversation they've become. This third and final one, though, might be a bit controversial, so I want to make sure it's as clear and well-articulated as possible.
I'm not sure if other sites have something like this, but on Blogger, we can check our site's stats.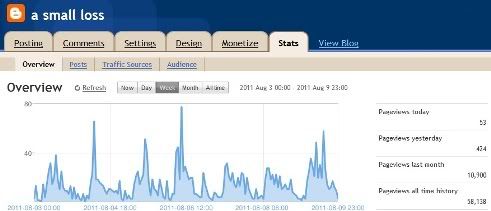 You can track page views, see what posts are being read the most, and what websites people are accessing your blog from. The most interesting part, I think, is under the Traffic Sources tab, where you can see what people have looked up on search engines that lead them to your blog. The results are almost always interesting - sometimes funny, sometimes odd, and occasionally incomprehensible.
My most popular search terms are, thankfully, related to my blog's name/title - various spellings, with and without spaces, and sometimes with the word "blog" at the end. Other frequently recurring terms:
I also get some really interesting ones every now and then, which I usually post to Twitter because they can be really ridiculous or strange - the search engines pick up a word here and a word there and give my blog as a result. It's mostly funny because somewhere, someone is looking these things up:
spooky girl in the mirror (spooky? really?)
my legs are all muscle (I wouldn't say *all*, but mine are nice!)
p point value scrabble (it's 3! in English Scrabble, anyway...)
almostgastricbypass jerk (I have no opinion and no comment)
too good to be true examples (trust me, my story is both good and true!)
anchor tattoos on the top of your hands (hands are off-limits to me)
anchor tattoo on foot (not where my anchor is!)
216 devil guy (what does that even mean?)
fat ugly wearing glasses girl (surely they didn't mean me...)
woman wore long underwear under clothes because she was cold (why else would you wear long underwear?!)
Never a dull moment around here!
What about you?
Do you ever check your blogs stats? What are some interesting search terms you've seen?