I had great intentions for a post today, but my internet has been spotty at home and I can get online for ten minutes at best. So instead, I have been cleaning my apartment to get ready for a roommate. I also worked on a craft project last night! It felt good to disconnect a little and create something tangible.
So for today, I just wanted to share this picture: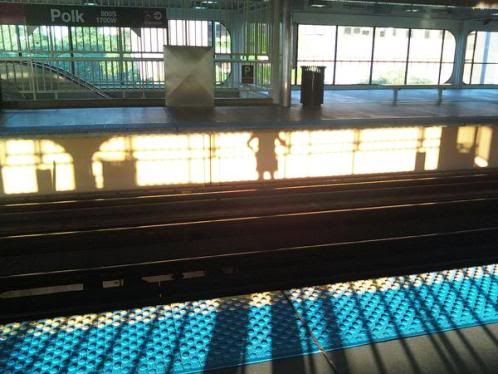 This is my shadow while waiting for the train home yesterday. I had gone to the university to sign my contract, and I stayed to get some work done on the computers in the library. While at the school, I ran into two people I knew who hadn't seen me since school got out, and they both commented on how terrific I look these days. My progress this summer has felt incredibly slow, but looking at my weigh-in data, I'm reminded that when school ended, I was well over 200 pounds still - there are a good twenty pounds between yesterday and the last time either of these people saw me. As I get smaller, the physical difference between weight decades becomes more and more apparent - and even I can recognize the changes in my body over the past twenty pounds.
I had felt very comfortable and happy even before I ran into those two, but once I saw them, I was absolutely floating with confidence. And then, as I waited for the train home, I caught a glimpse of my shadow. My hands confidently on my hips, per usual lately, and my skirt blowing around a little with the glorious evening breeze we had, a fantastic reprieve from the heat the day earlier.
It's a lousy cell phone picture, but it captured the moment pretty well for me, I think. I felt really lovely and confident, and my little shadow with its healthy curves made me smile incredibly. I have struggled a lot this summer, and I still have a lot of work to do, but I'm so grateful for days like yesterday, when I can look at myself and appreciate how far I've come.
What about you?
What's your favorite recent NSV? What compliments have you received lately?