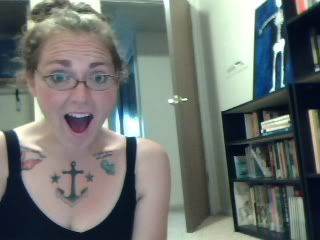 So, here I am. In California. In one piece, but barely. This has been an intensely busy couple of weeks, and it shows no sign of slowing for the time being. The stress of the move is over, but now there's the transitional stress, the getting-used-to-a-new-life stress, the seriously-grieving-my-losses stress.
Thinking about the events of the past two weeks makes me a little dizzy, to be honest. It hasn't quite hit me yet that it's real, I don't think, mostly because my dad is still here helping me get settled. It's feeling more like a vacation, especially since the apartment complex I'm living in is incredibly fancier than my little place back in the Midwest (two pools! two hot tubs! air conditioning!). And Dad being here is a blessing and a curse; as much as I love him, I'm ready to try and get used to life on my own a little.
And life here is profoundly "on my own." The city I moved to is really great, but more of a city like the one I went to college in: a few shops, a few restaurants, a few amenities, but certainly not Chicago. I'm homesick for a lot of things, mostly for the sake of familiarity. It isn't the Chicago city buses and the El I miss, per se, but knowing what buses I need to take to get to work or what trains take me to where I need to be. I feel very lost here. And it isn't the university that I used to teach at that I miss necessarily, but the ease of returning to a place where I wasn't new. There's a lot of paperwork that needs to be done for a new hire, and because I was hired so recently, there are a lot of bumps and issues we're facing that cause an awful lot of frustration. Things like my employment paperwork not being finished yet, so I don't have an employee ID number, so I can't get an ID card, so I can't make photocopies or take the university bus for free.
These are all things that will sort themselves out eventually, but for now, they're stressors. And I hate to admit that I've been soothing my stresses with food and naps. I have a few great days, then get overwhelmed and just want to eat until I fall asleep. I don't mind occasional off-plan eating, but not when I use the food as a way to avoid dealing with problems. I was struggling with my eating back in Chicago, but I still worked out like a fiend to maintain and keep my gains reasonable. The numbers are irrelevant (though I'm still bouncing around the 190s) - I don't *feel* my healthiest, and that's the part I'm most upset by.
None of this is ideal, but considering the whirlwind of events of the past few weeks, I'm not letting myself feel defeated. I have gone running a few times since arriving, though nothing substantial - three miles at best. It's hard to believe that if I were back in Chicago, I'd be ready for the half marathon in two weeks. There is a "fitness center" in my apartment complex that is comprised of one old treadmill, one old stationary bike, and two weight machines - I'll be signing up at the university gym tomorrow.
I wanted to hate it here so badly - I miss my friends, I miss Bobby, and goodness knows I don't do change very well in any case - but I really love it, and I'm so excited to be working at this new school. The job is absolutely perfect for me - taking a new program and building it up, developing it into something great for the students and for the university. And I am in a great place where I'll be able to bike all over and run outdoors year-round. For now, I am doing the best that I can, making mostly good decisions, and just staying afloat as I deal with a lot of huge changes right now, and as soon as my dad leaves, I'll be able to entirely refocus. I went to a bike shop downtown and saw there's a 5k nearby on Saturday - not anticipating anything like I'm used to, but I'm still incredibly excited to get back out there and run with a crowd.
I have a few ideas of things to write in the next few days - some observances from life on the West Coast, updates on the trip out here, and what happened with Bobby in my final days in Chicago. I've missed writing. I've missed blog reading! And I especially miss the accountability I find here - not being able to track my food on MyFitnessPal has definitely made off-plan eating more accessible, and I can't wait to get back on this morning. I don't have time for new recipes, and I'm a little upset that the Intrepid Chefs has had to be put on the back burner for now, but once the dust settles a bit around here, things will be back to normal, I promise.
What about you?
What have you been up to these past two weeks? Any great blog posts I need to make sure I don't miss? (My Google Reader is still saying 1000+ posts after an hour of reading...)