With the internet in my apartment down for the better part of this past week, I've been getting a lot accomplished. I headed to the university library a few days to write articles and enjoy the air conditioning. I had some great workouts, including a pretty good run where I got awkwardly sunburned around my iPod armband. And I've deep cleaned pretty much my entire apartment -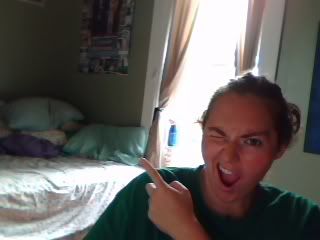 I'll be finishing up today, and that's something to tick off on my 101-in-1001 list!
(My bed still isn't made yet, though. It's 6:30 a.m., I can only be so wonderful right now. I'm too tired to even put my glasses on.)
The cleaning started because I was frustrated, and continued because I realized it was incredibly necessary. I'm not usually very messy, but I've been so lazy lately - my laundry from Monday was still piled on the couch until last night when I finally put it all away! Another part of the mess problem is that my neighborhood doesn't have the cleanest air, so having the windows open all the time makes everything dusty very quickly.
It's a good thing that I started tidying up, too, because this morning I have a girl coming to check out the apartment to rent my spare bedroom! She is a French exchange student who will be attending the university where I teach. I hope she's a nice girl - she sounded very kind in her email. We're the same age, both quiet, and she said she will be busy with studying and teaching but is also looking forward to exploring her new city. I'm a little nervous, because I never had good luck with roommates in college - I somehow ended up in a suite with seven girls who were all only-children and had never shared a space before. This girl mentioned in her email that she lived with four roommates in Dublin a few years ago, so I'm hopeful.
The other good thing about all this cleaning and reorganizing is that it's kept me active - I took two rest days in a row this week, one because it was too hot to function and the other when I got my
temporary bad news
from my boss and I knew any attempt at a workout would've been a flop. But moving my office into my bedroom and cleaning everything up kept me moving and out of the kitchen (unless it was the kitchen I was mopping and dusting at the time).
This week's weigh-in is a good one: I'm at 192 today, a 3 pound loss for the week. Finally! More than one pound! My week started tough, but apparently the decade challenge with
Meghan
is just what I needed. It's going really well so far! I'm so glad - I'm dying to get out of the 190s. I've been here for what feels like forever. I couldn't think of any way to celebrate my 150 pound loss, and I was too overwhelmed with life whatnot to throw the rebirthday party I'd dreamed of for six months or so, but finally getting into the 180s definitely calls for some sort of reward, I think!
What about you?
Do you have rewards scheduled for reaching weight loss goals? (If so, what are they? I need some ideas!) What are you looking forward to this weekend?
Also - I'm super behind on blog reading - I usually clear out my Google Reader before bed, and it's just been piling up for days ... over 200 unread posts right now. So I'll attack that at the library this afternoon. Any particularly good posts from this week that I shouldn't miss?