I'm saying this here, announcing and proclaiming it, because this is a place where I am honest and therefore, if I say it here, it needs to be true.
I am not going to binge this weekend.

I am not going to binge this weekend.

I am not going to binge this weekend.
I'll say it, scream it, shout it, and repeat it as many times as necessary to make the point clear to myself: this weekend, no matter how badly I will want to give in, I will not be using food to calm myself or to relieve stress. The
binge jar
is prepped and ready for use, though I honestly think I'll be too busy to binge, even if I wanted to.
I got an email yesterday. Not a long one, but a heavy one. An important one.
A little back story, first: the only thing keeping me in Chicago right now is the fact that I love it here. I'm single, with no kids, so if a good job offer came in, I'd be able to take it without any issues of relocating anyone but myself. So all summer, I applied to any open teaching positions I could find, just to say I was trying. I never seriously expected to hear from any of them, not even the out-of-town ones, let alone the out-of-state ones.
Yesterday, I was contacted about an incredible full-time university position teaching French.
It is not in Chicago.
It is not in Illinois.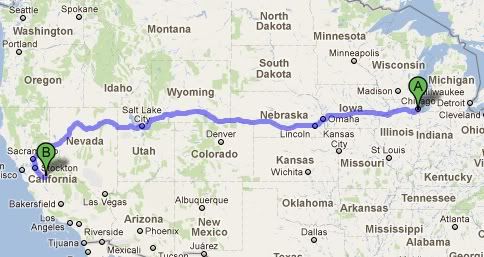 I've never even visited California on vacation - the furthest west I've been is St. Louis. And I might need to relocate there - soon. Adding to the stress of this is the very quick turnaround: classes at this university start in a week and a half. I have a phone interview Monday, I will get a decision on Tuesday, and I'd need to be at the university for new employee orientation the following Monday and the beginning of the semester that Thursday.
When I first read the email, I stopped breathing, to be honest. I got a granola bar from the cabinet and ate it incredibly slowly - first, to distract myself from the flood of thoughts that suddenly washed over me, and second, to soothe my need to be chewing on something while quelling my urge to eat the entire box. I emailed my friend Jill, left my friend Lorelei a voicemail, and then called my dad in a panic.
I want this job. I'm completely terrified of having to start over, and especially of not having time to neurotically plan every detail of my new life, but at the same time, the thought of forced spontaneity is a little exhilarating.
I walked with my cousin Sarah last night - we hadn't seen each other in a while, and we needed to destress and get out of our apartments. We started in our neighborhood and ended up walking five miles east to a small beach on Lake Michigan. We talked about the job - my nerves about the interview, my concerns about relocating so quickly - and I felt much better, as I always do when talking with her.
After hanging out at the beach, we opted to take public transit home since it was late. I retold the job story to Sarah's boyfriend Marty, who offered more advice and support. He made a great point: that yes, this is new and scary and happening faster than I would like. But isn't that exactly the kind of transition I've become a bit of an expert in lately?
This weekend, I have a very big to do list. I have to prepare for my phone interview - researching the school, the program, reviewing my CV, and bracing myself for what questions they might ask. I also need to research the town I'd be relocating to, since I applied to the position without seriously considering where it was. And even though there isn't an offer in my hands just yet, I also need to research things like an apartment and how I'm going to get myself and my belongings from Chicago to California in less than a week, because if I *do* get good news, the drive is 34 hours without stops - I have to be on the road within a day. Any pre-decision work I can be doing will help.
Not on my list? Snacking. Overeating. A binge by any definition. Panicking and subduing my nerves with food is counterintuitive. It's a comforting feeling during the binge, but thinking about the way I feel afterwards - the guilt, the physical pain - that's not what I need this weekend. I need a clear mind, a clean body.
I am not going to binge this weekend.

I am not going to binge this weekend.

I am not going to binge this weekend.
Repeat, repeat.