At different points in my journey, I have tended to focus more on certain blogs - though I still read the whole gamut and try to comment and support people no matter what their personal goals are. When I first started reading blogs, I sought out only bloggers "like me" - folks with over 200 pounds to lose, and exclusively female writers.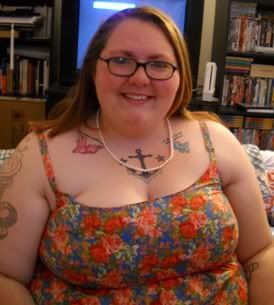 As I've continued on my journey, though, my blog reading horizons have expanded. I credit this to realizing that when I look beyond the physical, a lot of people are "like me" - even in the least likely of places, I can find something I relate to.
In the beginning, I wanted to read as much as I could by people going through the same experience as me - because even though the hundredth pound is as hard to lose as the first one, the strength required of you when you're getting started feels incredibly overwhelming compared to the strength required of persevering through the middle stretch. That's part of how I got that big to begin with - it's easier to stick with a harmful habit than commit to making the right choices and changing my lifestyle. There were always excuses for eating garbage and not being active, and the weight climbed accordingly. Suddenly, you're 23, just shy of 350 pounds, and going to the bathroom or tying your shoelaces are exhausting. So I looked to read what other people had to say about getting started, so that we could support each other.
As I started running, I looked for C25k and running blogs. I was 296 pounds the first day of C25k, and truly felt like a fit person as I jogged and walked in 60 second intervals. I wanted to read more about people who had done the program, to see what advice they had and how they were feeling as the weeks carried on. Around week 5 of the program, the game changes a little - you start running full miles without walking intervals, and for someone who had never ran a mile without stopping in her life, that made me feel like a real athlete. I started looking for people who wrote about the races they had done, because I understood what they wrote about.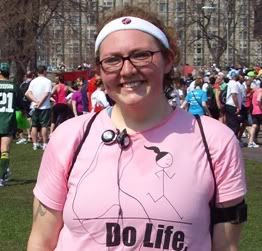 I knew how it felt to train, and I knew the incredible feeling of the "runner's high" that they described after hitting their longest distances, logging their fastest paces, and finishing race after race. I looked to read what other runners had to say about the sport, so that we could support each other.
Recently, my focus has been on maintenance blogs. It's time to start actively thinking about my plan for maintenance - it hit me a few weeks ago that I'm in the final stretch of the losing phase - I have 37-57 pounds to lose still, which is quite a bit of ways to go, but at the same time, I've lost about 3-5 times those figures already. This realization, I think, also contributed to my slowed/stalled weight loss.
It might be a silly analogy, but the most perfect image I can think of is that I feel like the part in "Willy Wonka and the Chocolate Factory" when Charlie Bucket and Grandpa Joe drink the Fizzy Lifting Drinks and start floating - they tumble and float carelessly, enjoying the ride and feeling fantastic - until they realize they're about to be chopped to bits by a gigantic oscillating fan, and they start grabbing fruitlessly at the walls of the tunnel they've been floating in. Losing weight has felt incredible and I've enjoyed so many non-scale victories, but now the end is near and I feel like clinging for dear life to avoid reaching it. Unfortunately, burping won't save me like it did for those two - I have to keep moving forward.
It's really conflicting: I want to lose weight, but I'm scared of actually losing down to the beginning of my life in maintenance. I cried myself to sleep the other night because I lost 150 pounds in one year when I thought it would take three.
I thought I would have more time to get ready for "the end." I got upset, mad at myself even, for doing "so well." It doesn't always feel like I'm doing a good job - the uncertainty of the future overwhelms me.
For my whole life, I've wanted to lose weight. I'm actually doing it now, and before I know it, that won't be one of my life goals anymore. It's a major part of my identity that I'm frankly a little scared of losing. I've made great strides in the past year, but there were also 23 years where I was a big girl who wanted more in life. I'm really afraid of regaining the weight, not because I want to be big again, but because as long as I have weight to lose, I'm still Mary. I know it seems ridiculous and illogical to fear the end - because it isn't actually an end. I'll have new goals. Weight maintenance is something I'll have to work on for the rest of my life. This is my sobriety - no matter how much weight I lose, I'll always be a formerly super obese person in recovery.
So even though I love reading about the experiences of all different points on their various journeys, I've been focusing very closely on maintenance blogs, on people who have lost the weight, who are keeping it off, who show that it *can* be done, and with grace and balance. And soon enough, we will support each other.
What about you?
Do you have any fears, secret or not, about weight loss and/or weight maintenance? I know I can't be alone in feeling this way - I haven't been with anything else so far on this journey!