While I love writing and am always pleased with the content I produce here, sometimes a blog post turns out to become a particular favorite of mine. It isn't usually anything that I have to do with the post itself; rather, it is the comments and feedback that make the updates personally affecting and especially important to me.
I wrote last week
about my maintenance fears
- it was honest and open, and writing it allowed a big weight to be lifted from my heart. I liked it when I set it to publish, but truly fell in love when I started to get responses to my asking what some of your maintenance fears are.
I got responses from people at all different stages in the weight loss game: beginners afraid of not making it there, middle of the journey folks who worry that the weight loss won't be enough (mentally or physically), and people in maintenance who shared their apprehensions and concerns as they made the transition.
I am constantly reaffirmed that at no point am I alone on this journey. While certain events and details of my past and present are unique, there are an overwhelming number of thoughts, feelings, and experiences that we all share. I started afraid to fail and eventually became afraid to succeed - but I wasn't the only one whose mind changed like that. I, too, feared that I would never be close enough to even consider the details of my life in maintenance. I have also worried that I'll reach my goal and it won't feel like enough. I've wondered if I'll still be single no matter what my size because my body never actually had anything to do with it. It felt incredibly comforting to know that I'm not crazy for having these kinds of thoughts.
Whenever I feel overwhelmed by my fears and concerns, I try to sit back and reflect on the bigger picture. Something I have believed since I started last year was that as wonderful as the weight loss has been, it's mainly a side effect of me taking an interest in myself and finally deciding that I am worthy of being properly nourished and that a little healthy selfishness is a perfectly good thing. When I realized these things and believed them with all my heart, the weight loss came naturally; when I started to question them, the losses stalled.
I keep coming back to one of my favorite ideas, from
Ellen
, one of the maintenance bloggers whose stories of life before, during, and after weight loss never fail to make me both smile or cry (and sometimes, both) with self-recognition; she said that
being a desired size is simply a perk of an already fulfilling life.
My life is fantastic. Truly remarkable. Amazing and wonderful. And incredibly worth living. At 192 pounds, I believe these things to be true; I need to make sure that I still believe it at whatever weight I decide to maintain at.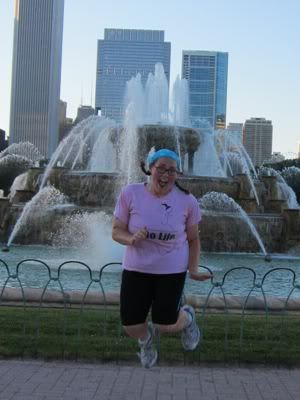 So my biggest goal with maintenance isn't food related at all, but rather, emotional. I need to make sure that from now until forever, I believe my life is worth living and that I am a person of great value.
Which isn't to say I'm not a little concerned about the food issues - they're important, they're just not in the foreground. Most of my work on my journey so far has been food-related - realizing what a healthy portion size looks like, understanding the way my body feels when it's been fed well, accepting that the goal isn't perfection but perseverance and consistency. I've been gleaning advice and ideas about how to approach the new phase of weight challenges. I don't want to wake up, strip down, and step on the scale every morning for the rest of my life. But I also don't want to wake up over 200 or 300 pounds again, ever. As long as I keep waking up, though, I think I'll be doing well. For now, I'm reading, asking questions, seeking advice, and preparing the best I can, trying to figure out what achieving and maintaining a healthy balance will mean for me.