It was very hot again yesterday, so I decided to head to the university library. It's air conditioned there, and they have more functional computers than the Chicago Public Library (I wanted to get some work done for the article writing job, but the CPL computers only allow basic internet use, no word processing. That's weird, right?). I took a shower and made my
leftover meatloaf sandwich
, and sat down at my desk to eat and check the bus tracker to see when the next bus would arrive.
I usually keep Gmail open in one of my browser's tabs, and while I was updating my Twitter about the deliciousness of the sandwich, I noticed a new email. It was from my boss at the university.
Subject: VERY sorry for mix up, please forgive me
It took a moment for the reality of it to sink in.
"... there was a misunderstanding ... I miscalculated ... we do not need any lecturers at all ..."
Did she really just say that? Then it clicked, and I suddenly felt like I had been punched in the stomach.
Adding insult to injury, I got two more email within the fifteen minutes that followed: more rejection letters. One was for a full-time academic advisor position at a different local university, the other was for a part-time cashiering job at Whole Foods.
I just sat there at my desk, staring at nothing in particular. My breathing was shallow and my heart was racing. I still needed another job on top of the two I have now in order to make my rent and pay my bills, and since this was my fifth grocery store rejection of the summer, it wasn't looking great. To need
two
jobs when one is hard enough to come by?
Needless to say, I didn't make it to the library.
I didn't binge, which I'm proud of. I felt too queasy and nauseous, to be honest. Food didn't even cross my mind. I was dizzy with confusion about what the heck I'm going to do to get by.
I looked over at my bookcase, and saw a little white plastic card, the size of a credit card, with the words "Stop & Shop" on it, along with a series of numbers. It's my employee time card from the grocery store I worked at in high school, college, and the summer before I relocated to college. The card had been taped up over desk all during grad school with a note that said
Consider the alternative.
No matter how tough grad school got, no matter how stressed out I was by teaching or homework or paper writing, I had to remain positive and keep going, because it was what had to be done in order to avoid being trapped in a minimum wage customer service position for the rest of my life. I got very lucky last year with the full-time job at the university - I didn't make nearly as much money as someone with a master's degree should, but it didn't matter because I honestly felt like the happiest girl in all of Chicago. I made enough to get by, and I felt proud of the work I did and the effect I had on my students.
I read an opinion piece earlier this summer about the "boomerang generation," the kids who go off to college and get degrees, only to wind up living back at home. The author said something that really hit me:
Not everyone needs a degree. Having one isn't a right. Someone needs to stock shelves, drive trucks, and mop floors. A post-high school education is an investment. Investments don't always pay off.
The idea of making a bad investment has been rolling around in my mind for weeks. I pursued a degree in something I'm passionate about, and it seems to have ended up hurting me more than helping. I can't find a full-time position in my field, and because I have a graduate degree, most places won't even hire me for part-time work because I am overqualified. I feel very trapped.
I tried to call my dad, but his phone went to voicemail. I sent my sister Lisa a text message and asked her to call me when she got out of work, and she called back almost immediately and asked if I was alright.
No, I'm not.
And I started bawling, and I let it all out.
My boss emailed me and said she made a mistake and she can't rehire me and so now I don't have a job for the fall. I'm not going to be able to pay my bills. I'm going to be homeless. And I'm stressed out about everything that's going on with our family and the fact that I can't be there right now. And I broke up with Matt and even though he was a jerk and it was the right thing to do, it's just another thing that I've lost right now. And I feel so unbelievably alone. Nothing is going right for me right now, and I feel so incredibly scared.
Lisa and I butted heads for most of our lives - it's our very strong firstborn/secondborn complexes - but we've become closer over the past year or so, and she talked me down from my hysterical sobbing while offering advice and support.
I ate dinner. I took a shower. I took a nap. And I woke up feeling just as scared, but a little more rational. It's okay to be a little terrified of the unknown - but it isn't okay to let it consume you. So I took another shower to cool off, then decided to pull an activity from my
binge canister
- I wasn't feeling like a binge, per se, but I needed to be distracted. It said to dust under my bed, so I grabbed the dustpan and broom and got to work.
Dusting under the bed turned to bagging up the pile of clothes I've been meaning to donate. And that turned to reorganizing my closets, which turned into the megahuge project of moving everything from my home office into my bedroom so I can clean it up and get it ready for a roommate to move in. Suddenly, five and a half hours had passed. I'm not sure how many calories I burned, but if it's directly proportionate to how many books I own, I think I ended the day pretty well.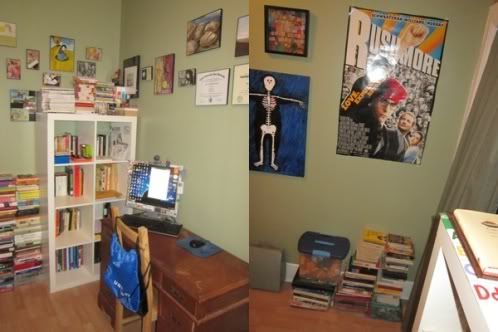 (That is not all my books. I might be a hoarder.)
I set up my computer and cleared off the couch since my bed was still covered in things to sort through (that's this morning's project), and signed into my Gmail account. There was another email from my boss at the university, with this one's subject reading
"NEVER MIND, all is fine"
The secretary had misspoken, and my offer for one class is still valid. I felt a little relief, but in the back of my mind, I can't let go of the idea that this is all so fragile. That I can't count on anything right now. That things can still change.
Today, I'm holding on for dear life to the things I can control. I have one more full-time paycheck coming to me, and I'm actively looking for jobs still. I'm going to get a roommate and that will help with some of my expenses. I'm paid up at the gym through October, so that's something I don't have to worry about. And I am intently focused on nourishing my body and not feeding it garbage because I am sad and it is cheap. My job situation is not ideal, but the worries are not going to last forever. I am a hardworking girl who is passionate and dedicated, and something is going to come along for me. It has to.
What about you?
How do you deal with feeling out of control - with jobs, relationships, weight loss, anything - without turning to food?