My positive picture for the week:
I totally skipped BTH last week since I didn't have home internet yet - so this week, you get two pictures!
After running the 5k on Saturday morning - which actually ended up being "about 3.4 miles."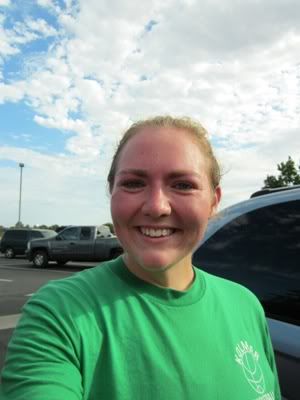 It was very much a small town event sponsored by a local church. We started with a prayer and ended with a pancake breakfast. (Dad had some. I had half a banana.) It was untimed, so I have no idea how I did. And I'm fine with that - it just felt good to run with a group!
Second picture, me about to accomplish 101-in-1001 goal #43: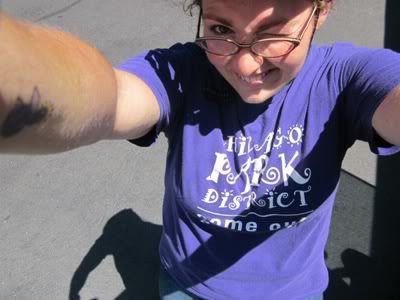 I rode a bike! I got a glorious black bike from a local bike shop and have been riding it all over town, exploring. Round trips from my apartment to the university, quick errands to Target, all over the local bike paths ... I forgot how much I love biking. I loved the recumbent bikes at the gym, but this is something altogether better - it's like the first time I ran on the streets after training on treadmills. It feels so good to actually propel myself forward!
What have you achieved towards your goals this week?
Again, playing catch-up from last week: goal #7 was "stop being busy." Stanier's explanation of this is as follows:
Being busy is seductive. Just because you're going flat out doesn't mean you're on the right track. If it's the wrong hole, you need to stop digging.
I guess you can say I spent all of last week being the right kind of busy - filling my days with useful activities, not just trying to pass time. I wish I had exercised more, but with moving and getting settled in California, I'm just now getting back into my healthy active routines.
For this week (and continuing to next week for the challenge end), I'm working on goal #8: start something. Stanier's explanation of this is as follows:
Don't wait any longer for permission to do what you want to do. There are always reasons to procrastinate just a little longer. Enough! Just start!
Being all alone in a new place is incredibly scary and daunting - and a perfect
tabula rasa
opportunity to start doing and being exactly what and who I want.
What have you done to make yourself feel fabulous?
My new apartment has a bathtub! My Chicago apartment had a shower stall, which is tough when all you want to do is come home, relax, and soak in the tub. So I definitely took a bubble bath the other night, and it was just as dreamy as I had hoped. I've also been making great use of the complex's pool and hot tub - I even met some other people there who work at university! We're all having dinner on Wednesday, I can't wait!
This is week 9 and the final week of the challenge! Is there anything you want to really push to achieve now?
Starting something! Everything I have worked on this summer has built up to this, the creation and beginning of ... something! I just have to figure out what it is, and then make it happen.
How have you felt through the challenge? Has anything been more difficult than you thought? Anything easier?
I'm very pleased with the emotional progress I've made on this challenge - I'm ready to get back to "traditional" challenge goals for the fall, but I'm still very glad I did something unique with my summer.
Where do you fit in your family? Are you a middle child for example? How does that affect your "place" in the family?
My cousin Sarah and I talk a lot about birth order - we're both firstborns and have all the typical firstborn traits. Perfectionists, overachievers, conscientious, with a strong urge to protect and care for the siblings.