I've been looking over my data for the past month to figure out why I'm stalling. Go figure, you eat more and you move less and the scale stops showing results!
I had nine rest days in June - four of which were complete rest days, and the others I walked at least 5 miles. It's more than usual, but I gave myself permission at the beginning of the month to spend a couple of days hanging out with Matt and not obsess over missing the gym. Now that we're settling into a more normal routine of seeing each other once or twice a week, I have no excuse.
Here are a few graphs showing my June results compared with the data from other months.
Running:
Swimming (yikes):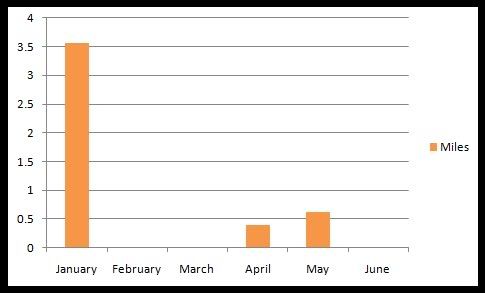 Biking: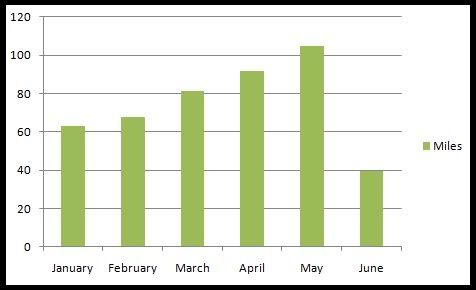 Weight training:
Wii Fit:
And last but not least, elliptical: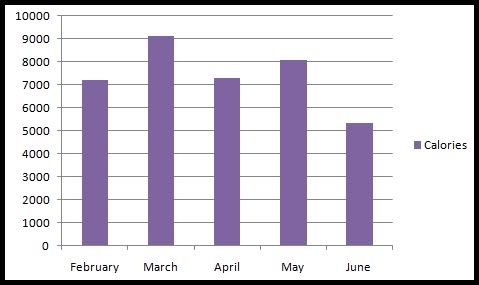 I'm not thrilled. My workouts were weak across the board - I had a few good long runs (and kicked crazy amounts of butt on my 10k in the beginning of the month), but focusing more on speed and less on distance had my mileage down for the month. The biggest hits were in biking (I had over 100 miles in May but under 40 in June) and the elliptical (workouts were fewer and less intense). Weights and swimming were both zero minutes/miles logged, which isn't crazy compared with other months, but I'm still not entirely pleased, and I'm going to do something about it for July.
I woke up early yesterday morning for my weigh-in, blogged about it, felt sad, and took a nap. I ran some errands, then came home and decided I wasn't going to go to the gym because my legs felt like they needed a break. Then, no joke, the voice of Dennis Duffy from "30 Rock" popped into my head:
Then get in the pool, dummy.
So I went, and I felt great. I forgot how much I love swimming ... and how hard it works the arms! It reminded me of a quote I've seen in various forms on quite a few blogs: you always regret overeating, but you never regret a workout. And it's so true. I ate well and was even a little under my calorie goal yesterday, had a fantastic workout, and this morning, I'm already seeing (and feeling) positive results.
For July, I'm making a comeback - back on track in every way. Big things are going to happen in the next month, I can feel it - all of which will be a direct result of the strong efforts I'm committing to put forth.
You heard it here first, folks. Expect big things from me this month.
Who else is with me?
What are your workout goals for July?