It has been ridiculously hot in Chicago.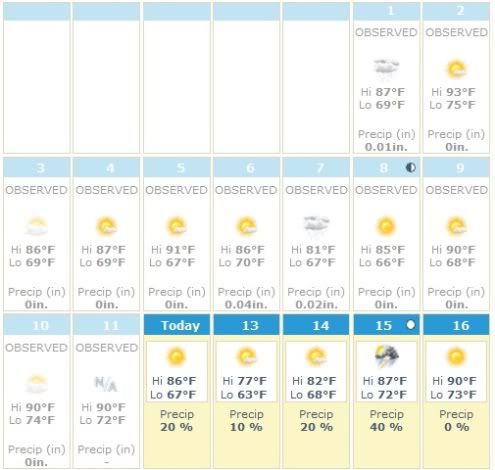 Borderline unbearable - but the thing is, this is what we endure the long hard winters for. Yes, it's hot - very hot. Yes, it's humid - too humid. But it's also unbelievably lovely still, and it's worth all the sweat and frizzy hair to wake up every day in such a wonderful city.
I'm really proud to be say I have still been running outdoors to prepare for my 8k race on Thursday night. I wanted to do one last long run of 5 miles on Sunday, but I couldn't make it - I did 3.6 miles, and even that was intervals. I'm hoping Thursday night goes well - it should be a little cooler since it's in the evening, and if nothing else, at least the sun won't be beating down like it does mid-day. I'd ideally like to finish in a better time than the last 8k, but given the heat and the fact that I've never done a race that wasn't in the morning, I'm not expecting any personal records. Just need to finish!
In order to beat the heat, I've been hanging out in air conditioned places like the library and the gym. I've been taking extra showers to keep cool. And I've been eating a few frozen treats, like this:
Oh my. This creamy, delicious goodness is vegan, free of added sugar and oil, and has only 110 calories. How so?
It's just a banana.
Frozen bananas, when chopped up in a food processor, get a creamy consistency just like soft-serve ice cream. Who knew?! A lot of folks, actually - once I searched for it, I found about a million websites and blog posts dedicated to people having their own revelation about it. So, I guess I'm late to the hey-bananas-make-great-soft-serve bandwagon, but I'm totally okay with that. I know better now. And I'm going to share it with you.
First, slice up a banana into coins (not too thick) and freeze them until solid - a few hours, at least. Then, put them into a food processor...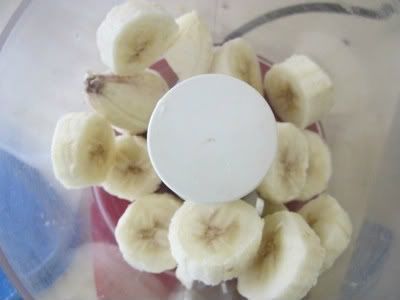 And start processing. After a few seconds, it looks like little pebbles; after 3-5 minutes, it's as creamy as The Real Thing.
Scoop it into a bowl (or don't!) and enjoy! So easy. You could totally jazz it up with some mix-ins (chocolate chips or walnuts would go great), but then, of course, you're adding calories. And really, it doesn't need it. There's something really delicious and motivating about the fact that what you're eating is
just fruit
.
I've been experimenting with this a bit the past couple of days. I tried banana with peach for 210 calories - Matt loves peach and is lactose intolerant (and I made him
lasagna
! Mamma mia! He must like me or something.), so I hoped this would prove to be a good replacement for Italian ice and sorbet, which are very high in sugar.
It was a little grainier than the plain banana because the peaches froze more solidly, so the "grains" were little ice chunks. But it totally copied the sorbet texture, so I'll call it a win. (We'll see what he thinks, picky eater that he is.)
I also tried 125 calories of plain figs, because if I could only pick five foods to eat for the rest of my life, figs would always, always, always make the cut.
Same icy texture as the peaches, but I loved it. Next time, I won't freeze them as long, though, because they were a bit too solid and I was a little worried that the motor in my food processor was going to die.
What about you?
What are your favorite low-calorie cool summer treats? Have you ever done an evening race before? If so, how do you prepare differently than for a morning race?