Today's the day! Happy re-birthday to me!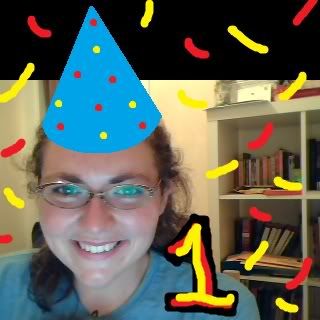 Tim
asked me the other day what my favorite moment from the year was. Honestly, I'm not sure if I could pick just one! This whole year has been remarkable - like all other one-year-olds, Healthy Me has grown incredibly in her first year, but she still has much to learn. I've grown as I shrank, learning an awful lot about myself in the process. I've made mistakes and I've had terrific victories. I've worked hard to discover what works best for me and what doesn't. I've accomplished things I never, ever thought I was capable of.
So, here's a little recap of my first twelve months - a "baby's first year" album, if you will.

August, September, October
In August, I met my first weight loss goal: I lost enough weight to use the Wii Fit my parents had bought me for Christmas a year or so earlier. I also had one of my first big challenges when I
went on a road trip
with a few of my cousins to the Illinois State Fair - I packed a Larabar for car breakfast and avoided the worst of the fair food. To not go buckwild in a place that was meant for edible excess was a huge test of my resolve, and it felt so good to ace it.
In September, my friend Ellen asked me to walk the
Race for the Cure 5k
with her as part of her boyfriend's family team. It was exhausting. It took me over an hour. And I felt an overwhelming sense of accomplishment afterwards. I got interested in walking races after that, to feel that intense pride.
In October, on the day of the Chicago Marathon, I
raced up 26 floors of stairs
in my office building. I trained for it after work for about a month and a half before, starting with five floors at a time. It took me 8 minutes that first day, and my lungs felt like they were going to give out. On race day, I did the 26 floors in a fraction of a second over nine minutes flat. Then raced up the last two floors, just to say I conquered the whole building. Afterwards, we enjoyed a healthy snack of apples, and I announced to my friends and family that I was going to learn how to run so that I could run a 5k race.
November, December, January
In November, I started to see a change in my features due to my weight loss, and began to struggle a lot because of it. I had a hard time recognizing myself in the mirror, since I hadn't been under 275 pounds since high school. My iPod broke, and I had
an emotional breakdown in the Apple store
when I made mental connections between the old/new look of my body and my old, big, reliable mp3 player/the small, fancy new one I bought. Not as jump-for-joy-ful as the races, but a very important experience for me on my journey.
In December, I
headed back home
to Connecticut for the holidays. I was very nervous about going back and being able to stay active and on-plan. For my first holiday season, I did well - I made a great plan, stuck to it as closely as I could, and enjoyed being with my family.
In January, I ran
my first 5k
. It took me less time than I had anticipated, but that hardly mattered - I ran the whole thing! And when I finished, my kid brother gave me a gigantic hug. It was an incredible day.

February, March, April
In February, I had
my first binge since August
, triggered by my dad going to the hospital in Florida. We also had a huge blizzard, and I was very proud of myself for staying on-plan and in control when leaving the house wasn't an option!
In March, I took an overnight
trip to St. Louis
to enjoy my spring break a little - and to take some vacation photos of my smaller self.
In April, I was very busy. My mom and brother came to Chicago to visit, I found out I wasn't getting rehired at my teaching job, and I
went to Connecticut for one day
to visit my best friend Jill, whom I had not seen at all since I started to lose weight - I was down more than 125 pounds at that point.

May, June, July
In May, I
went vegan
for a whole month, and was surprised at how much I didn't miss meat or dairy. It's something I'd consider going back to in maintenance, but in the losing phase of my weight journey, it didn't work for me.
In June, I ran
my first 10k
- and in less than a minute longer than it took me to walk the 5k back in September. And I got to onederland for the first time since middle school!
In July, I met
Ben
and a ton of other incredibly inspirational people at
the Do Life event in Chicago
. We ran, we talked, we bonded. I left the event feeling fully charged and ready for my month of anniversaries.
To tell the truth, looking through all the pictures I've taken over the past year has brought tears to my eyes. Partly because I see that big girl and I don't really recognize her anymore, but also, because my vision of the whole journey has been so blurry lately. I've focused so intently on short-term struggles and failed to adequately acknowledge just how much success I've seen this year.
I hope I don't sound boastful, but I'm honestly in awe of myself - this year, I have done some really incredible things. Yes, my weight loss has slowed in the past few weeks (I've been looking over my food and exercise journals and have been drawing some conclusions), but I can't honestly look back over the past year and call any experience a failure - and even if they were, it all comes back to one of my favorite Rilo Kiley quotes:
All of your failures are training grounds.
These experiences are teaching me and preparing me for the next year of weight loss - and a lifetime of maintenance. I am not failing by any means - I'm figuring out what works for me, what I need to do to ensure that these changes are not only successful but sustainable in the long run.
So, happy re-birthday to me, and hopefully many more. I can hold my head up on my own, so to speak, and I'm ready to start trying to walk on the legs I've been strengthening in my first year.
I invented this week's recipe. It's still quite hot out, but I've wanted to make turkey meatloaf lately. Mostly because I wanted a sandwich made with leftover turkey meatloaf. I know it's a small departure from a turkey burger, but it was different enough to inspire my newest favorite recipe.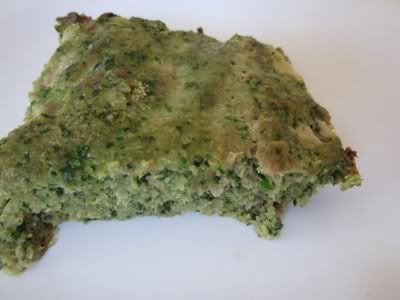 It may not look like much, but it was incredibly delicious. The flavor was spinachy-y and bacon-y but neither overwhelmed the other. I didn't add any other spices, so you could really taste the two flavors pretty well. I had a piece for dinner last night with some fruit; two of the leftover slices went straight into the freezer, and one has a date with destiny on a whole wheat sandwich thin either today or tomorrow.
16 oz. lean ground turkey
1.5 cups fresh spinach
4 strips turkey bacon
1 egg
1/2 c. plain breadcrumbs
Preheat oven to 375º F. In a food processor, finely chop spinach. Add bacon and process to chop/combine. In a medium-size bowl, combine all ingredients (be careful not to overmix). Spray the bottom/sides of a 9"x9" baking dish with non-stick spray, then place in meatloaf mix, spreading level to ensure even baking. Bake for 25-35 minutes.
So yummy. I used the same thin strips of turkey bacon that I used for my
sandwich swap
and was amazed at how prominent the flavor was.
The best part of this recipe? With my ingredients, a quarter of the meatloaf is 250 calories - a great lunch, especially paired with some more spinach for a salad! I've been using MyFitnessPal for a couple of weeks. (If you use it, feel free to add me! I'm oh_mg - I love seeing people's food diaries, first to get ideas for menus, but also to get ideas from how people maximize their calories). I love it, and one great feature is that you can add in your own recipes by listing the ingredients and how many servings it makes, then you can add it to your daily meal tracker. Amazing!
What about you?
What's your favorite meal to have as leftovers?