The past couple of days have been surprisingly difficult. Matt and I weren't officially in a relationship, so I didn't
break up
with him, per se. But we spent a lot of time together these past two months, and now there's a lot of empty space to reacquaint myself with.
I didn't cry at first, but as people in my offline circle got wind of what happened and started to ask about it, the tears came. A friend of mine from my Monday night conversation hour knew something was up and asked about my
problèmes
in his broken French, and my eyes welled up as I quickly dismissed it -
je peux pas en parler maintenant.
I just can't talk about it now. I cried when my dad called to talk about it - I kept it controlled on the phone with him, and let it overtake me as soon as we hung up.
Monday I was strong with my eating (and even survived a trip to a pizza place without eating a single thing), but I fell apart a little yesterday. It didn't feel like a binge, I didn't want to hurt or be numb. It just felt like I could eat and eat and not feel full, or even simply satisfied. I became mindful of what was happening and stopped, logged the damage on MyFitnessPal, and made some fun crayons like
Christina made with her son
, all while drinking lots of water.

By the time the crayons went into the oven, the empty feeling transitioned to full and I was ready to reflect on the situation with a bit more mental clarity.
I laid on the couch with the sun warming my face, closed my eyes, and wondered if I could even imagine how much it would hurt to lose someone I was with for longer than six and a half weeks. I thought about how upset we all were at my grandfather for withdrawing from life after my grandmother died, and how they were together for nearly sixty years. Mine, comparably, is an incredibly small loss, and I suddenly felt very selfish.
I also thought about a recurring idea I've pondered since starting on my journey: the connections to my thirteen-year-old self. I've become upset quite a few times, frustrated at things I'm learning at 24 that I should have found out as a teenager - dating stuff, mostly. If I had gone out more with boys when I was younger, this wouldn't be new. I would be less awkward, less confused, less naive. I'd have an established recovery plan for situations like this, something tried-and-true that I perfected in high school or college.
But you know, a lot of things would have been easier to figure out at thirteen. Like the fact that binge eating isn't a solution to my emotional problems. Or that gaining weight and hiding from the world isn't going to protect me from being hurt. Even if I dated dozens of boys before Matt, even if I were 13 or 18 or 90, this would still be difficult. I'd cry. I'd seek comfort. And I'd eventually pick myself up, dust myself off, and get back on track with my life. (If there's one thing I've gotten good at this past year, that would be it.)
I can't change the fact that I spent most of my life avoiding real world experiences. But I'm learning, slowly but surely, how to feel my emotions and not eat them. And I'll learn how to recover and carry on from heartbreaking experiences. The emotional weight loss, like the physical, involves a lot of high-intensity workouts, for sure. I know where I'd like to end up, but I have to pace myself if I want to get there in one piece.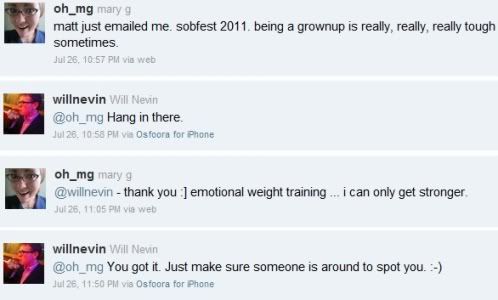 And I'm so, so, endlessly grateful for the support of this community. Thank you - all of you - for spotting me.