I love cooking. I've always enjoyed it, but I think I've grown to appreciate it even more while on my weight loss journey. I'm the one who takes these ingredients and puts them together in a healthy and delicious way -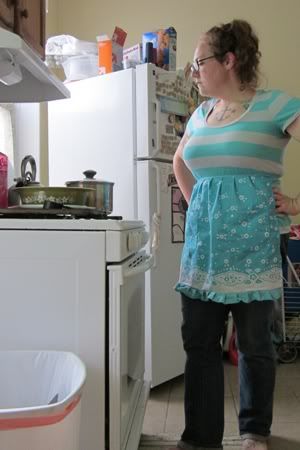 I am personally responsible for the way that I am properly nourished.
I've loved sharing some of my recipes here - and I always love seeing what recipes other bloggers have in their healthy meal planning arsenal ... it inspires me to make them myself! Having lots of recipes to choose from means that I don't get bored - I tend to fall in love with a recipe, then eat it exhaustively and then abandon it.
I've been thinking a lot lately about the community aspect of blog world, and I had an idea for a new website. The idea came to me in a dream, to be honest - I wasn't going to share it until my dad called me a couple weeks ago with a similar sort of idea, a site where we post healthier versions of fast food recipes and better picks for going out to eat. (A site like that
already exists
, by the way, and is an awesome resource.)
Let me know what you think of this:
It would be part challenge, part recipe collection. Think kind of like "Iron Chef," kind of like the Daring Bakers.

Each week, we have an ingredient - it could be a fruit or vegetable, a grain, a spice ... it'll be something different every week, but nothing so fancy you'd have to go out of your way to find it or offer up your firstborn child to buy it. You have until midnight on Saturday to make a recipe using the ingredient - it could be a family favorite or something you invented for the challenge, it could be for any meal, and it could be sweet or savory, as long as it is healthy and uses the week's ingredient.

Send me and e-mail including the recipe, a picture of it all prepared, and any additional information you'd like to add (serving size, suggestions for variations, etc.). I'll put them all together in a document and send it out to all challenge participants on Sunday afternoon/evening - voilà, a mini cookbook sent to all of us every week! I would also post them to our website to have a little database of healthy recipes, searchable with tags like "vegetarian" or "breakfast."
It's still in the very early planning stages, so there's room for improvement and openness to suggestions. It would need the participation of others bloggers to make it work, though. (It also needs a snappy title, preferably with a really cheesy pun. The only thing that came to mind so far was "Slim Pickins" - I'm certainly open to suggestions there, too.)
What about you?
What do you think? Is this something you'd be interested in reading? Would you be interested in participating? Any suggestions for how to improve the idea before launching it?