I don't have a weigh-in to share this morning. To be honest, I'm not even here this morning! I'm writing this Thursday before I even head to my 8k; after the race, I'm heading to Matt's to shower and change, then going to dinner and to see the last Harry Potter movie with him and his cousin, and I'll spend the night at Matt's place.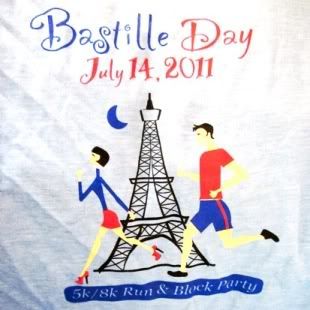 I'm excited for so many things: to see some of the other Do Lifers at the race, to kick butt all the way from the starting gun to the finish line, to enjoy the heck out of my post-race cupcake, to see the movie, to meet Matt's cousin (not big, but ... a medium-sized deal, right? Meeting family? Yet another first that makes me happy but nervous).
I'll likely post my weigh-in tomorrow with my race recap. For accountability, though, as of Thursday morning, I'm still seeing a loss for the week. And while I may be away from my scale this morning, trust that I have not used that an excuse to undo all the hard work I've put in - I fully intend to stay on-plan while out at dinner and not waste the 8k workout. Post-race cupcake aside, my eating has been pretty good this week - and it hasn't been easy. Lots of emotional writing coming next week, I still need some time to collect my thoughts. Family stuff ... you know how that goes.
Still taking it easy with workouts - my knee feels better but still has moments where it's painful. If it's not totally fine by Monday, I'm going to look into some sort of doctor's appointment. Best to do it now since I still have my university health insurance for another month or so.
And speaking of work, I started a part-time job this week writing articles for a few small news outlets. It isn't much, but it's tremendously comforting - it feels good to be working again, and I'm feeling much more hopeful now that I have
something
.
Other fantastic things that happened this week:
1. I had two separate men on two separate days use the word "skinny" to describe me. While I admit that I still have a long way to go to get to my goal, it felt really great to hear that. Especially from guys, since I usually find them to be more brutally honest than some of my lady friends. (Did I ever tell you about the Frenchman I was working with who said that the best thing about my weight loss was that now I "have a neck"? I to let it slide and hoped the compliment was just lost in translation.)

2. I e-mailed my July 9 progress picture collage to my dad in case he missed it on the blog, and he sent me the greatest response: "I had to look at the new you for few minutes to tell if it was really you. I had to look for your tats to identify the body! You are an amazing person with a great ability to stick to it. I am so proud of you. Keep up the good work!!! I still love you the same as I always have. DAD" Especially with all the family stuff going on, that was really great to hear.

3. Remember my goal to 345 miles in 2011? During my first 8k back in April, I hit my 100th mile; #245 was ran at some point during last night's 8k - so, less than 100 miles to go to meet the goal. So even though my numeric weight loss between the two dates has been less than stellar, I'm feeling great about the fact that I've been far from lazy and laying around.
What about you?
What accomplishments do you feel good about these days? What's the best compliment you've received lately? What are you looking forward to this weekend?