So far, July has been exceptionally good. I've been attacking my workouts, eating on-plan, and trying to stay incredibly positive in the face of continued joblessness and (now augmented) family problems. As odd as it may sound, I'm really proud of how much I cried this week. I felt my feelings, I didn't eat them, and as of this morning, I'm binge-free for over a week. I couldn't be prouder of myself right now.
Just as I had hoped, the results reflect my efforts: I'm logging a 5 pound loss for the week, putting me back at my lowest recorded weight of 198. I'm back in onederland, and I'm here for good this time - mark my words. The next couple of days will be the toughest as I push myself to reach lower numbers without panicking, stalling, and/or backtracking. I'm up for the challenge - looking forward to it, even. I've rediscovered my motivation, and it feels incredible.
My loss for the week likely could have been even more, but I've had to take it easy for most of the week since my knee was bothering me. I love swimming but I have very poor form, and after a couple of days in the pool, the side of my left knee was aching. Not injured, per se, just sore from misuse/overuse. I took some ibuprofen to get through the Do Life run (and took it easy to prevent hurting myself further - imagine if I had gone my fastest!), then took a complete rest day. It was torture having to sit still all day - I didn't even let myself walk anywhere, probably took 30-50 steps that day - but I wanted to make sure I was putting the least strain on it as possible, so I clipped recipes out of a pile of old magazines and watched The Golden Girls all day. Lovely.
Today it's feeling pretty much back to normal, and I'll be heading to the lake for a run tonight. I'm still putting together my training schedule for the half marathon, so I don't have a mileage goal for today - just whatever I feel like doing. I've been running at night to get acclimated to the temperature/conditions before next week's 8k race. I'm running with Lorelei, so I'm not sure if I have a speed goal. I'd like to finish in under 50 minutes - I know I can do it, but I also know that Lorelei can't, so I might forego a personal best in order to finish the race with her. She refuses to run without her iPod, though, so running with her isn't so much about keeping each other company as just not losing her. I don't know, we'll see what I end up doing.
Some inspiration this week:
1. Fitting into my rebirthday dress over three weeks ahead of schedule. It's a little snug, but it's on and zips the whole way.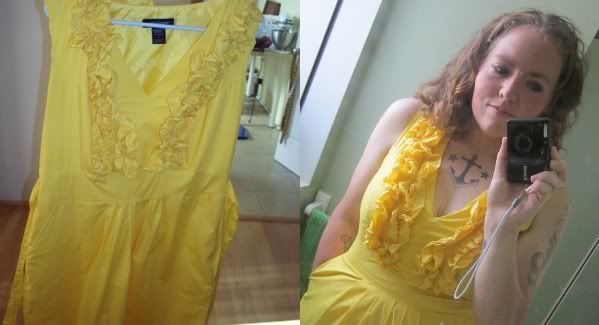 Three more weeks of staying focused and on-plan should make it perfect by the 31st!
2. Finally getting a new pair of glasses! My old ones were stretched out to fit my face at its biggest, and I was getting frustrated by how much bigger they made my face feel. I found an amazing Fourth of July deal, though, so I broke down, moved some money around, and got a pair like I've always wanted.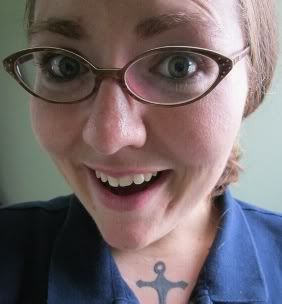 Always loved this style, but it didn't work with my face at its biggest. Now, though, I totally love it.
3. I'm still sort of in awe of the night of the Do Life run, to be honest. It was so inspirational, seeing so many other people who are working hard and kicking so much butt - with weight loss, with running, with everything. This picture is from the Do Life Facebook page, and I love it. Ben and I were sitting the same way and we talked about it being a great NSV. Even more awesome, though, is the group crowded around me, asking about my weight loss story.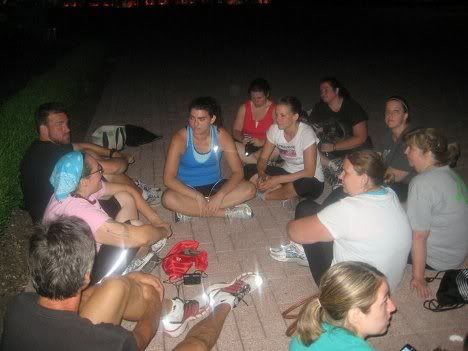 I wasn't going to stick around that night - Lorelei left early, I was going to head home right after the run to have my salad and hit the hay early. I was thanking Ben for his advice before the Shamrock Shuffle when he sat down on the sidewalk and told me
Have a seat - you're not going anywhere.
And I did. And I'm so amazingly glad. It was so nice to meet other local runners and weight loss bloggers, and we're already planning on meeting up again for races (a few of us will be doing the Bastille Day race next Thursday). It feels great to know more people in the city, especially folks I can run with.
What about you?
Who/what has inspired you this week?