July, we meet again.
This time last year, I was about to hit rock bottom. Everything was coming to an apex - do or die - and I made the conscious decision to do everything in my power to get healthy. I stopped playing video games and started walking around my neighborhood. I stopped eating tons of garbage and started to eat better and eat less. I stopped drinking soda and started drinking water. In doing so, my life has changed entirely over the past eleven months.
Today, I find myself waking up feeling just as lousy as I did last July.
The scale, which flipped back and forth between 198 and 199 for the first half of the week, showed me 203 this morning, and I'm upset. It was an understandable 201 on Wednesday morning after my binge, and 200 yesterday morning after a good run and a successful day of on-plan eating. Yesterday I hit the gym, ate well, drank water, and went to bed early. So, a three pound gain overnight? And technically a FIVE pound gain from last week? I'm upset. I'm back in the two's, somewhere I never wanted to be again. 200 and 201 felt temporary - small fixable errors - but seeing 203 feels incredibly bigger, and just as bad as if it said 299. It's movement in the wrong direction.
The scale readout feels secondary, though, to how I'm really feeling these days, which is pretty down. Someone asked me point blank the other day, "When does the money run out?" It takes all I have in me not to tailspin. I want to go numb, but the problem is that I'm not the same person I was a year ago, so sitting around my apartment and eating myself sick isn't satifying anymore. I end up feeling more depressed because I know I am capable of so much more. I know how good it feels to do right by my body, to nourish myself properly, to break personal records, and to see numeric losses.
I hate not having good news to report - and I don't just mean with the scale, because if the scale wasn't moving but I felt fine, I'd be okay with that. But I'm looking at all the pictures from the past year of this smiling girl who just raced up the stairs of her office building, who just crossed yet another finish line, and I'm not recognizing myself.

When I feel myself slipping back into my dark depressed place, I see myself this way, no matter what the scale says: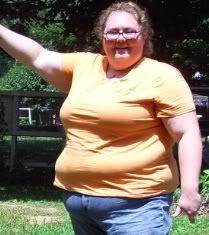 Because this girl was sad. Faking smiles. Profoundly alone. Hurting beyond belief. And about to reach her point of no return.
But - this girl was also capable of great things - she just had to get started and learn how to make it work for her. And I just need to figure out how to recapture that drive and motivation in spite of less-than-ideal circumstances. There are a lot of really lousy things going on right now that I have no control over, but this is one thing I can determine the outcome of. I feel great when I work out and feed my body what it needs to do its best - so why wouldn't I do all I could to make sure I feel great? I can apply to thousands of jobs and hear nothing. I can write dozens of letters home and still not have progress. But it's impossible to eat better/keep moving and not do well.
I really hate complaining, and I hate that I've done so much of it lately. It gets me nowhere. So today, as I turn my calendar to a new blank page, I'm trying my best to be the cheery optimistic self I've enjoyed being this past year. I'm hopeful - great things are going to happen this July, I know it - and I'm fighting on. I have the tools I need to do well, I just need to use them.
What about you?
What are your goals for the new month? What's your favorite summer exercise? It's a holiday weekend for lots of people - what's your favorite healthy summer celebration food?