Another week without a recipe - sorry to disappoint. I've been trying to stick to my standard fare these days: lots of salads topped with random leftovers (this week: wild rice and either chili beans or pintos with dill/onion/garlic - quite delicious), chicken grilled on the George Foreman with lots of veggies, yogurt for breakfast, and fruit and/or air-popped popcorn for snacks. It's simple, but it's cheap and clean and I know I get great results from going back to my basics. I promise a new recipe next week, I just want to make sure I string together a few great days first - secure my footing on the path back to weight loss success before I try any fancy tricks.
One step I took this week towards binge prevention was to put away my Kitchen-Aid mixer: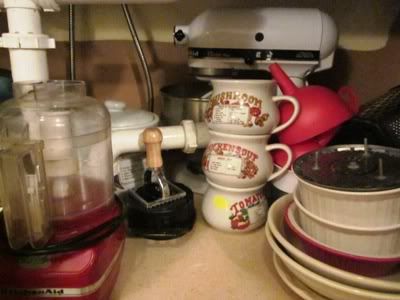 Hanging out in the way back of the under-sink cabinets with all my super cool vintage soup bowls, the Ikea funnels, and the ravioli stamp ... all fairly neglected lately.
Since I live alone and Pilsen apartments are notorious for their lack of counter space, my kitchen table typically houses my record player, my grocery list, my food log, a food scale, a mini-food processor, and the Kitchen-Aid mixer. Putting the mixer away means I'm less likely to bake, which is good, because my poison of choice lately has been raw cookie dough.
I wasn't sure why (my usual binge favorites are cheesy/salty/starchy) until I realized I'm still working through Geneen Roth's "Breaking Free from Emotional Eating." She talks about abandoning diets and eating nothing but cookies and raw cookie dough for weeks, and while it worked for her (she gained weight but got sick of it eventually and craved healthier meals/snacks), I think it may have been triggering something in my mind.
I'm okay with abandoning the diet mentality but not the diet, if that makes sense - I need to stick to regimented eating for now, but I know that the decisions I make overall are lifestyle changes. I'm okay with occasional treats - I'm
not
okay with using food to soothe non-hunger pains and cravings; there's a difference between one cookie or cupcake from a nice place when I'm out with a friend, and standing at the kitchen sink crying with my spoon in the mixing bowl.
I mashed up a sweet potato for today's breakfast, then cleaned off the mixer and tucked it away for now. (I've also put down Geneen Roth for the time being and picked up Ruth Reichl's "Comfort Me with Apples.") Are Geneen's anecdotes and the Kitchen-Aid mixer entirely to blame for my food struggles? No, of course not - there's no one single cause for anything on this journey. But having the mixer right there made poor choices a bit more accessible, and any small steps I can make toward positive progress need to be taken right now.
What about you?
Have you ever had to put away an unusual trigger - either hidden out of sight or rid of for good? How did it work for you?