First of all, I'm super thrilled about the responses to
yesterday's blog challenge
- I'll be working on developing the idea this week, so stay tuned!
I haven't been terribly adventurous with my cooking lately - it's just been too hot. Lots of salads, sandwiches, and chicken breasts on the George Foreman grill. Since I've had some trouble sleeping, I made four portions of rice early on last week (since it was "only" about 88º at 4:30 a.m.) and had that throughout the week, either tossed up with beans in salads or along side my grilled chicken. Satisfying, yes, but boring.
So for this week's recipe, I made one from the Hungry Girl cookbook and website:
Loaded 'n' Oated Pizza
. I was inspired by
Hungry Girl Fan
, one of my favorite recipe blogs.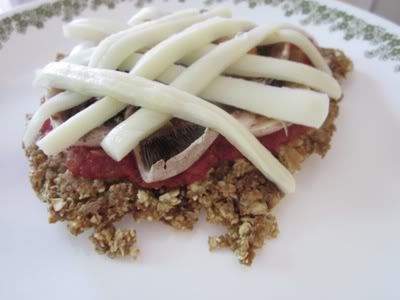 It was an okay size for a lunch - the cheese on it is one single piece of string cheese all pulled apart, if that's any measure. I'd likely double it for a dinner - or even just one and a half times the recipe and a salad!
I liked that it was quick and didn't require the oven - cooked in a non-stick pan on the stovetop - she suggested baking it just long enough to melt the toppings, but I just covered the pan for a minute or two. Not worth heating the oven (and, subsequently, my whole apartment) to 400º for some melted cheese.
I thought it might be odd with an oat and cereal crust, but it was surprisingly delicious. I didn't add spices to it, so it was a little sweet even, and I bet it would be good for breakfast as a fruit pizza topped with Greek yogurt and some berries! I also liked that the crust held together well - my attempts at cauliflower crust pizza have been delicious, but haven't turned out as solid as I'd like. This one, I took one bite of like a lady, with a fork...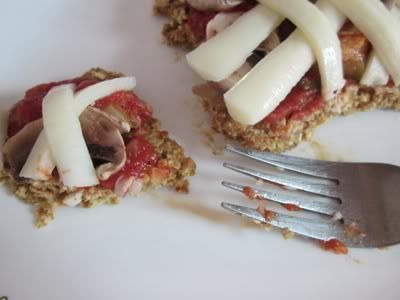 ... then I picked it up and ate it like a real piece of pizza. Definitely satisfied my pizza craving!
I'm not crazy about alfredo, and as delicious and reasonably on-plan as Laughing Cow wedges are, I don't feel okay having them in the house right now, so I used some tomato sauce I made
a few weeks ago
and froze for later use. I also used two egg whites instead of 1/4 cup of Egg Beaters.
I'm very pleased with the way this recipe turned out - a lot of the Hungry Girl are hit-or-miss for me, as she tends to use a lot of artificial sweeteners and low-fat/fat-free ingredients, which I try to avoid (I'd rather have less of something real than all I can eat chemicals). As a pizza lover who has trouble justifying how many calories pizza crust has, I'll definitely be making this recipe again!
What about you?
Have you ever made any of the Hungry Girl recipes?