Gentlemen, you may wish to turn away. I'm gonna talk about lady stuff today. (Or just scroll enough to see a classic "before" pic of me at Disney World ... one that always cheers me up when I think that my thighs aren't getting any smaller.)
Some of the more interesting changes that have come with weight loss are related to "that time of the month." There are physical changes, of course: my periods are lighter and are now so regular that I can always predict the day it will start (I had them before, but sometimes only once every two or three months). But really interesting is that I never used to get PMS, and now I most certainly do.
Awful cramps, bloating, intense cravings, crazy mood swings ... I always thought ladies on TV and in the movies were being overly dramatic. Oh, no - the littlest thing might make me cry ... or infuriate me. And yeah, there's ibuprofen for the cramps, but I bet some chocolate would work in a pinch. Before, I was usually pretty depressed - but I actually have moods now, so they could swing. And I was constantly bloated from eating so much processed garbage, so period-related bloating was unnoticed...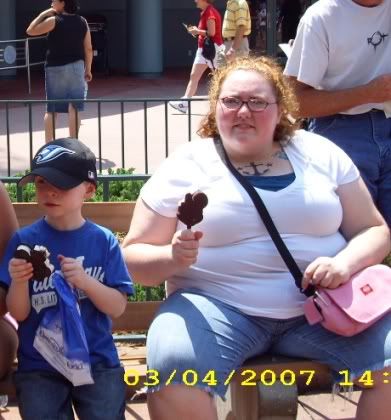 Now, I can feel a difference, not only in my body but in the way my clothes fit.
I'm wondering how much of this change is due to the different physical composition of my body - less body fat, less strain on all my inside bits, whatever have you - and how much of it is dietary. Maybe I never had cravings because nothing was ever "bad" or "off limits" - I didn't need a reason to march down to the store and buy a chocolate bar with almonds besides simply wanting one, no matter what time of the month it was. There wouldn't be an extra workout or smaller portions at dinner to accomodate the 210 calories, because the calories weren't anything I even looked at ... just the price tag, to see if I could get a couple - for "later," by which I usually meant "as soon as I finish the current one." And I thought nothing of eating two, three, four of them.
It reminds me of
one of my favorite posts by Ellen
about the lies we tell ourselves before we decide to get healthy, the reasons why and how we can get/stay so big:
"I had less guilt: If I ate crap for breakfast, lunch, and dinner, well – that was just normal so I didn't really stress about it."
These days, my go-to PMS snack is a package of pretzel M&M's. I love the salty and sweet combination, and at 150 calories, I can enjoy them while still staying in my 1200-1300 daily calorie range and not making cuts to my meals. Or sometimes I'll get a desserty-flavored protein bar (I like Balance bars - either peanut butter or smores) and have it for either breakfast or lunch - it might have as many calories as a candy bar, but it's replacing a meal, and it also has protein and vitamins/minerals.
I'm okay with having occasional treats, as long as they're controlled and I'm not using them to hurt myself. This is one benefit I've found to social eating - not only am I less likely to overdo it, but sharing your dessert means even fewer calories. There's an ice cream shop a few blocks from my apartment that I went to quite a few times a week last summer - their Italian ices are unholy good, and I always got the large, a 32-oz. styrofoam cup packed with sugary fruity goodness. I'm cringing thinking about how many calories are in it - not to mention the sugar! Yikes. I walked there with Matt on our second or third date, and we split a small (about 70 him/30 me - I'm glad to be sharing instead of having my own, but I still want to be mindful). It was just as delicious and refreshing as the big one without making me feel sick afterwards.
What about you?
Has PMS started/intensified for you? What do you eat/do to mindfully submit to your TOM cravings?