I started blogging last August for a few reasons.
One, to try and find a community where I could be held accountable. I knew a lot of people who perpetually talked about the weight they would like to lose - but at rock bottom, I needed to find "action" people. People who knew what it was like to have such a huge task ahead of them, who understood the struggles, and who might be able to offer advice and support. I found that community here, and I honestly credit blogging for so much of my weight loss success.
And two, to serve as a kind of diary where I would chronicle my journey to lose 210 pounds. As much as I wanted readers to encourage my efforts and offer advice, I've never written for an audience. I've always maintained that even if no one ever read what I had to say again, I'd still keep writing. The act of expressing myself is just as therapeutic as hearing what people have to say on the topics. This has been my salvation, my safe place where I have been able to work through my emotional issues as I learn to eat well and stay active and even simply exist in a body I've never known as an adult.
The problem with diaries, though, is that when displayed on a public forum, you're completely exposed. I have always written openly and completely honestly, and I felt safe in doing so. As my inner circle has become aware of my writing, though, I have started to lose my feeling of security and comfort - though my openness has not wained.
In writing about myself and my issues with food and weight, I've often mentioned friends and family members. When I write about these people, I am not actually writing about people themselves, but my relationships with them. Selfish as it may seem to say, this blog is all about me. This space isn't meant to be a tabloid exposé of family issues, but a documentary of how I've dealt with my problems as I attempt to get healthier.
It has been tremendously comforting to know that I'm not the only person who feels the way I do sometimes. To know that other people know what it's like to use food as a weapon to self-harm. To know that the sometimes negative connection between food and family isn't exclusive to me and my family. I wish I could talk directly to my family about these issues, but it's hard to discuss these heavy issues with the people involved and walk away with unbiased advice.
I finally figured out the last piece of the puzzle to why I started binge eating again. There was job stress, financial worry, and boy anxiety. And now, just like when I was 12, my parents' relationship is dissolving. For a while now, I have maintained that my weight loss journey is like going through puberty again. I have a new body that I'm learning how to use. I'm growing and changing emotionally. And now, I've reverted back to my preteen coping mechanism of wanting to feel the pain of being full in order to distract myself. It's all come full circle.
I'm not accusing any one person of wrongdoing - no one person is "to blame" for my binge eating problem. My family, as a cause, is indirect - again, it isn't about the people themselves, but about my perception of the relationships. I love my mother and father endlessly, but that doesn't mean that I wasn't profoundly hurt by their divorce. The birth of my binge eating problem had nothing to do with my parents as people but everything to do with my own need to find a coping mechanism; as a 12, 13 year old kid, I wasn't thinking about anything other than how to make the hurt go away. No one is more or less guilty.
I have as many issues with my father as I do with my mother. I have
binged because of my relationship with him
the same way I have because of my relationship with her. The difference between the two of them, though, is a level of tact, I think. My dad and I fight, keep a distance for a while, and then resolve things. He does a lot of things that anger and frustrate me, but his attacks are rarely personal. My mom, on the other hand, seems to take advantage of vulnerabilities - for example, knowing that I already feel tremendously guilty about my disordered family relationship, she closes an email with
"whether you believe it or not, this is another part of my life that is killing me."
Since my mother's visit in April, I've hit a rough patch and struggled with both motivation and controlling my binges. Worth noting, though, is that the week of her visit was also when I heard that my university contract wasn't being renewed. I'd still be struggling even if she hadn't visited, it's just that having her around made certain trigger foods accessible and just got the ball rolling a little faster. If my father had been around that week, or Jill, or anyone else, I'd be labeling their visit as the start of my current struggle.
When my mom was out here, we talked about my weight loss and I mentioned blogging as one of my sources of support. She seemed so proud of me for finding a community, and told me to keep writing my feelings, no matter what people thought. She even cited an interview with one of her favorite authors, who said that the people who truly love you will support you and understand, no matter what you write. It felt wonderful to know I had both on- and offline support, but the comfort was short-lived, as the silence between us began as soon as she returned home and, without my knowing, she started reading my blog. In spite of the advice she had offered, she took my writings very personally. And instead of using these words as a catalyst for conversation, she maintained radio silence for three months.
The silence between us was broken this week with a series of emails and blog comments, most of which left me feeling completely broken and worthless. My goal with this weight loss journey has been not only losing my physical self, but gaining a long-overdue sense of self-confidence and pride. For the first time, I've chosen to put myself and my health first, because if I didn't, I'd still be 345 pounds. The messages I've received from her this week have made me feel just as valueless as that sad fat girl on the couch, helpless and incapable.
There were accusations of obsession - saying that I am
"too much about this weight thing, and not enough about life beyond races and scales and what [I] can and can't eat."
And worst of all, there were charges that I'm a terrible sister, that I'm not only inattentive but flat out ignoring them because of the current issues between my mother and father. Strangers know that's the furthest thing from the truth. Why can't my own mother see it? I love my sisters and brother more than anything in the world. If anything happened to any of them, I'd be devastated beyond belief.
The funny thing is, I haven't been ignoring my siblings. I've kept regular contact with Lisa. I've sent dozens of unreturned messages to Katie (so I am certainly not to blame for any silence there). And it's impossible to reach Dan, a ten-year-old whose access to the phone and computer is limited. I know that I'm doing the best that I can in every aspect of my life - in looking for a job, in trying to get healthy, in being a good and loving daughter/sister/friend. And my efforts aren't futile or unnoticed.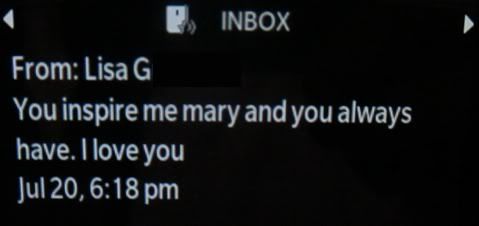 I set a summer goal of making peace with my mother, and I think that for now, agreeing to disagree is the closest we'll get. After telling her how lousy the emails made me feel, my sister Lisa had the best advice to offer on the subject: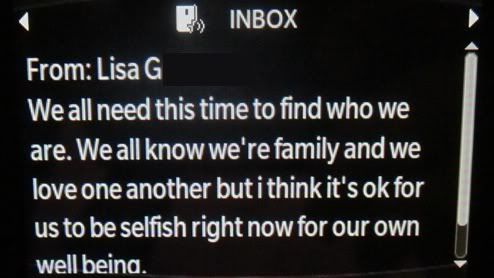 In my original letter to her after she left, I told my mother that I love her and all my family members very much, but right now I am unwaivering in my need to put myself and my health first. Right now, that means an impasse. It isn't ideal, but for me, it's some sort of resolution, and with that comes a little bit of comfort.