I mentioned the other day that I had passed a pretty important anniversary: June 18, 2010, was the last time that I had takeout delivered to my apartment. I've gone out to eat a few times since then, but there's a big difference for me between going out and ordering in, even if it involves the same restaurant. I love to cook, so if I am eating out, I'm not alone - it's a social experience. On the other hand, ordering takeout used to mean getting enough food to feed a small family, then sitting alone on the floor of my living room, shoveling it in as fast as I could and washing it down with soda straight from the bottle.
When I first started to eat better, it was like a detox. My body craved fast food so badly, I would shake. I cried myself to sleep a few times, I wanted it so bad. I knew if I fought it, the symptoms would clear up and I'd be better for it. But in the moment, it's hard to focus on long-term results. It wasn't that I
wanted
a cheeseburger - it felt as if I
needed
it, and not getting it would kill me.
As my body adjusted to cleaner, unprocessed food, I knew that I would need to arm myself with a fast food replacement if I was going to be successful with my weight loss. I've written before about my issues with cheese: it's pretty much my favorite food, so every time I've tried to diet, I cut it out completely ... then craved it so bad that I lost control and binged on it. This time around, I buy a single-serve string cheese or have one or two pieces sliced for me at the deli, and it's enough. I allow myself a reasonable amount of what I want, and it prevents me from feeling deprived.
And I did the same thing with my fast food cravings. I learned how to make veggie stir-frys. I made cauliflower crust pizza. And I tried all sorts of different turkey/bean burger recipes - that way, I can emulate the fast food experience without all the extra calories, fat, and sodium.
The other day,
Jillian
posted about a fast food sandwich on Twitter: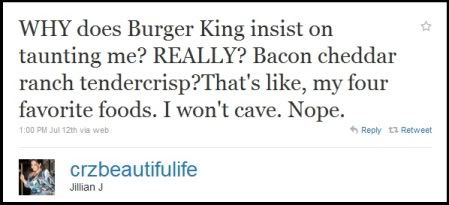 And my first thought was,
I could lighten that up.
I went to the Burger King website and got the nutrition facts. Ho. Ly. Cow. (Or chicken, as it were.) The sandwich - no fries, no drink, just the sandwich - has 900 calories! It made me think about my fast food binges and how I'd usually get two or three sandwiches (with the justification of "but I'm not ordering fries"). And how I probably saw the nutrition information on a poster or brochure in the restaurant, but still didn't think twice about it.
Having calorie counts and other nutrition information available is great, but they're meaningless until you actually understand what it means. Eating three 900 calorie sandwiches isn't a problem when the number 2700 is irrelevant to you. This is one reason why I feel this attempt at getting healthy is The One for me - I've been enlightened. I know about calories and how many I ideally need to eat/burn every day to lose, maintain, or gain weight. There may be a day when I eat a fast food sandwich - but never again will I have a portion like I used to, because I know what that means for my body in both the short- and long-term.
And honestly, compared to what you get at a fast-food place, I like my versions better. They're more filling (amazing, because it's fewer calories) and much more cost effective - the ingredients to make four sandwiches would cost only slightly more than one BK value meal.
So, I undertook the challenge of remaking this sandwich. I scoured the internet and looked through my pantry to come up with nutrition information for my version. And wouldn't you know, I shaved off over 500 calories!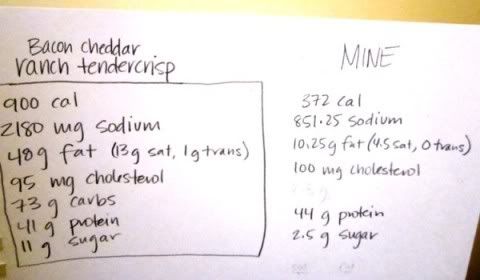 Not to mention cutting fat, sodium, and sugar by more than half each! Needless to say, the results of my research efforts were tremendously worth it.
4 4-oz. chicken or turkey breast cutlets
1/3 c. plain breadcrumbs
1 tbsp. Hidden Valley Ranch dressing mix
3 egg whites
8 pieces Butterball Thin & Crispy turkey bacon, cooked
4 deli slices cheddar cheese
4 Arnold whole wheat sandwich thins
Lettuce, tomato, and onion
Preheat oven to 375º F. Combine breadcrumbs and ranch dressing mix in a medium-size bowl. Dip cutlets into egg white, then into crumb mixture to coat. Place on a baking sheet and bake for 16-20 minutes, turning over after 8-10 minutes. When 3-4 minutes remain, place sliced cheese on top of cutlets to melt. Allow to cool for 1-2 minutes, then serve on sandwich thins topped with 2 pieces of turkey bacon, plus lettuce, tomato, and onion to taste.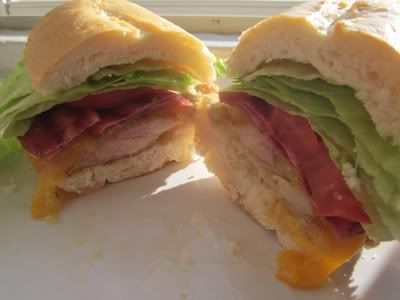 Delicious. A definite keeper. The ranch flavor was definitely there but way healthier than if I had smeared ranch dressing all over it.
It's my own recipe but I made a substitution - I developed the recipe for 4 but I'm just one, so instead of the sandwich thins, I bought one roll at the bake shop and adjusted my calories accordingly. (I can't keep quantities of bread in the house just yet.) And you could probably cut calories, fat, and cholesterol further if you used reduced fat or fat-free cheese. I've never been a bacon fan (even before, I thought it was too greasy!), but I liked the turkey bacon.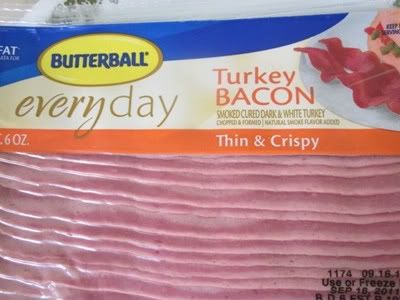 It had a good flavor and I cooked it on the George Foreman grill to get it perfectly wavy and bacon-like.
Thanks for hanging in there this week with all my recipes - I only lost a few readers, so hopefully it wasn't too bad. I promise to resume with actual content tomorrow!
What about you?
Do you ever recreate restaurant meals at home? What are some of your favorite healthier ingredient substitutions?