Until I recently decided to train for a half marathon, my running goal has been focused on speed over distance. I set a summer goal of a sub-30 5k, and I've been browsing Active.com and the Chicago Area Runners Association website for the right race to register for. In the meantime, I've just been running and keeping track of my own times.
A few weeks ago, I did a 4 mile run in 39:58, and the idea got stuck in my head of trying to finish the Bastille Day race in under 50 minutes. My finishing time at the Shamrock Shuffle was 57:18 - so to finish sub-50 would mean taking off an awful lot of time ... just about a minute and a half per mile. An 8k is 4.97 miles - so, a little less than a mile longer in 10:01? It would be tough, but with race day adrenaline, I kept the goal in the back of my mind as being completely feasible.
But I've had my concerns. Running has been tough lately; between my knee issues and the high heat/humidity, I've barely been able to break 3 miles. I tried to stay positive and listen to my body -
it isn't that I can't run longer, it's just that I can't do it today
.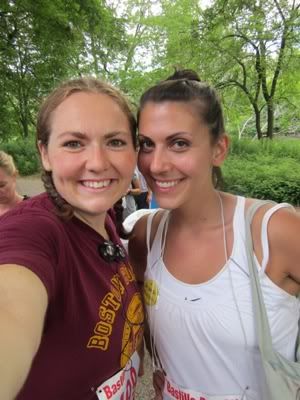 In spite of it all, and fortified with well-wishing messages from Internet and real-life friends, I headed to the race feeling confident.
We got to the starting line just as the gun went off, and got a bit of a slow start as we tried to edge our way into the crowd. I didn't see the clock as I passed the starting line, but I figured I would just do my best and not worry about pacing. I lost Lorelei pretty quickly, but by chance I caught up to
Claire
, a new friend and local runner I met at the Do Life event. She knew about my sub-50 goal and set the challenge for herself as well - we finished within seconds of each other at the Shamrock Shuffle.
I kept up with her and
Casey
(a friend of hers) for as long as I could, but after the two mile mark, I could feel myself losing steam. I could keep going, just not as fast as they were. At first I was two or three people behind them ... eventually, I lost sight completely. I started to focus on the mile timers, and saw ten-ish minutes from one to the next. My knee felt fine, my legs weren't killing me, so I pushed harder and harder, repeating over and over in my head:
Just a little farther, just a little faster...
Crossing the finish line felt incredible, as always. It was tough, and I wasn't sure if I made the goal I set for myself, but I finished, and that's what matters. I quickly found some water, a banana, the cupcakes I had looked forward to all day, and Claire and Casey. We also
met up with
Claire's roommate and
Jessica
, another Do Lifer; I kept an eye on the finishers for Lorelei but couldn't find her. After hanging out for a little while (and enjoying the heck out of my two mini cupcakes), I grabbed my stuff from the gear check, hailed a cab, and headed to Matt's to shower and change before dinner and the movie.
Dinner was delicious and on-plan, and the movie was absolutely terrific. When we got back to Matt's place, he made me check the race time - on his phone, no time to even run and grab his laptop. He'd been texting me all day to cheer me on, and even (cue blushing) made a bit of a sexy wager for if I made the sub-50. So I had a lot on the line!
With bated breath, I searched for my name and number.
50:35
I exhaled deeply. Matt rubbed my shoulders and told me that I did a great job, that it was quite an accomplishment, and that even though I wasn't sub-50, I was sub-51, so he'd still pay out on his bet. Comforting as he was, I still felt an odd disappointment - I wasn't actually upset about the race, because that's a really amazing finishing time. It's a 10:12 pace, nearly thirty seconds faster per mile than my 10k. But it was just ...
so close.
Less than ten seconds faster per mile, and I would've made it. But I fell short.
To be honest, I'm not sure if the disappointment about falling short was even about my race goal, but my efforts in general. I first got to onederland in mid-June. It's a month later, and today I'm weighing in at 197 (down one pound from last week). Even though I've been doing a good job at staying on track so far this month (some choices better than others, but still binge-free), I still don't feel totally back to "normal" - like the way I felt in the first six to eight months of the journey.
I used to feel so charged. I was making huge moves. But my motivation has taken a huge hit since the end of April - I haven't even lost twenty pounds since then. My personal weigh-in log reflects the mood change, for sure:
I can't help feeling like I'm falling short, even though my logical mind knows I'm not, and I'm sick of it. It comes back to the running mantra: it isn't that I can't do well, it's just that I haven't been able to do very well lately. I don't mind the weight loss slowing - I knew it would eventually, and I go to bed most nights lately feeling like I've done my best. But there's still something missing, a little
oomph
. I have figure out how to get the emotional fuel to push myself just a little further and a tiny bit faster, so I can get back to meeting the goals I've set for myself.
Very recently, I realized that I may have pinpointed the last piece of the puzzle of causes, so next week, I'll be hashing out some emotional stuff I've been working through lately. And hopefully letting go of this will be the boost I need to start feeling like the old new me again.
What about you?
Do you set personal time goals for races? How do you feel/cope when you feel you've fallen short - with weight loss, with motivation, with any goals?