When I was in grad school, people used to ask me all the time -
Hey, want to go grab drinks after class tonight?
And I always had a reason to say no. There were class exams to grade, course exams to revise, books to read, papers to write. And they all assumed I was just a great student and dedicated instructor. And they were only partly right.
I spent a lot of time during grad school sitting at home in front of my computer or the TV. The bigger I got, the stronger my anti-social tendencies became. I felt awkward and uncomfortable being the only girl who wasn't wearing something cute. I was afraid of breaking barstools. And I just didn't want to hear the rude comments - people always yelled mean stuff from cars as I walked down the street, but with added alcohol into the mix? At least on the couch, I know the reason I go to bed crying isn't because of what some stranger said.
As I've lost weight, I've started to become more social - people have remarked about how now they ask me to do things and I say yes without hesitation. I don't mind going out in public - in fact, I enjoy it. That's where some of the best in life is happening!
Case in point: last night, Lorelei and I met up with a couple dozen other locals to meet and run a 5k with Ben Davis, the couch potato turned marathoner and Ironman behind the
Do Life
movement. Some pictures: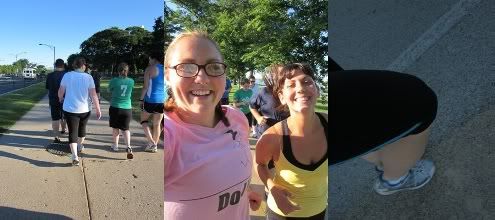 Walking to the starting point; just after we took off (I forgot to check my glasses! oops!); my hot runner's legs in action. And oh! What a night. Absolutely no complaints with a view like this one: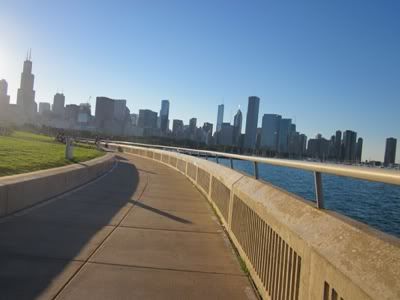 Or *ahem* this one: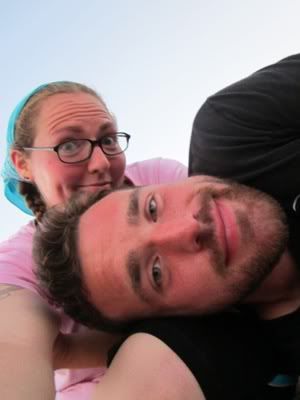 He ate his dinner and then laid down on my leg in his food coma. Pardon me for a moment while I squee like a total fangirl.
Even though I have been talking about this race since he announced it a few months ago, I was a little nervous and apprehensive. I was wearing my Do Life shirt and running shorts from Old Navy - the exact outfit I wore to the Shamrock Shuffle in the beginning of April. It's two months later, but I'm only down 15 pounds. Considering I lost the first 100 pounds in exactly six months, it's a little disheartening. I know that it's not a race, that losing becomes progressively more difficult as you get smaller, and that these two months have been fairly life-altering - but I still feel a little let down sometimes when I look at statistics. These two months had my first maintains - and my first gains. I could have done more, I should have stayed on plan the whole time...
Only 15 pounds in two months. But you know, "only" is a really useless word.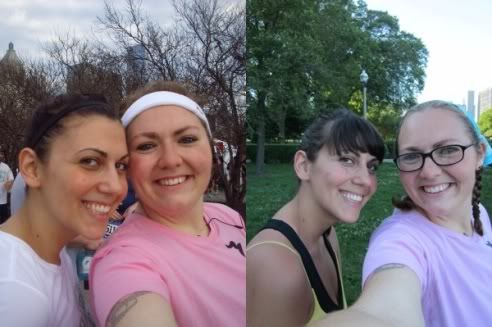 "Only" 15 in two months - but 145 in eleven.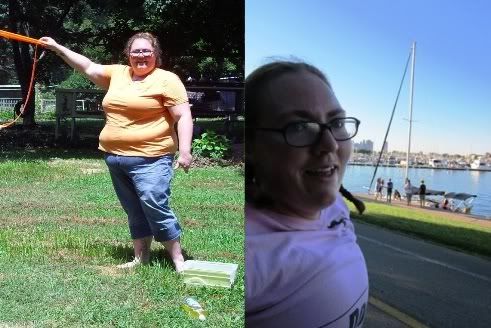 And even more important than the numbers is the fact that I'm living an entirely different life than I was this time last year. I don't sweat because I'm super obese and simply sitting on the couch playing Sonic the Hedgehog 2 wears me out, I sweat because I run 3.1 miles in over 80º heat with other people, amazing people who know what it's like to be big, or to be sad, or to be addicted. People who want to live the healthiest life possible - which has been my primary goal right from the beginning. We're doing life, and that is a truly incredible thing.
When we got done with the 5K, we grabbed some food and sat in the fountain area. Two and a half hours later, we were still sitting there, talking, laughing, telling stories, and inspiring one another.

This is what it's about.

It doesn't matter if we run or we walk or if we run to lose weight or just to keep sane. We do these things and we do them together.

From Ben's post-race recap
What about you?
How do you "do life"? Have you heard of Ben/read his blog/seen his incredibly inspiring YouTube video? (If not, please do yourself a favor and watch it
right now
- linked above on the Do Life Movement website.)