My positive picture for the week:
I got new glasses, and not a moment too soon. My previous ones were stretched out incredibly from when my face was bigger; that, plus too-big lenses, made them super unflattering. Here are my new glasses inside my old ones - see what I mean?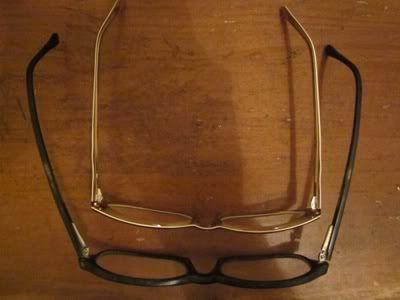 What progress have you made on your goals this week?
This week, I worked on goal #1 - stop hiding who you really are. Stanier's explanation of this is as follows:
Take time to figure out what makes up your DNA. When it comes down to it, what do you stand for? And then, when you know who you are, turn up the volume!
I made a list of fifty nouns/adjectives I would use to describe myself and my relationships with the people/places/things I love and consider very important in my life. Then I used them to make a
Wordle
in order to remind myself of how wonderfully multi-faceted I am and to help me keep in mind the people, things, and ideas that make me who I am.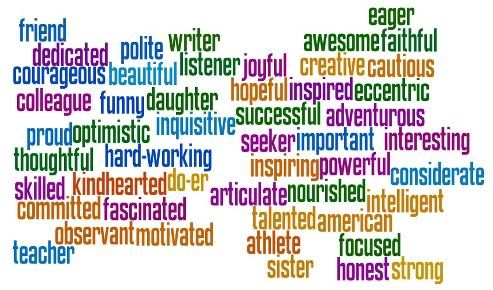 What did you do to make yourself feel fabulous?
I dressed up and had a little photo shoot out in my yard to celebrate the one year anniversary of my biggest "before" pictures. I wore a dress that Jill gave me, one I coveted incredibly when she bought it (not only because it was cute, but because I was so jealous of her walking into a store and being able to wear whatever cute thing she wanted). And I felt so incredibly lovely.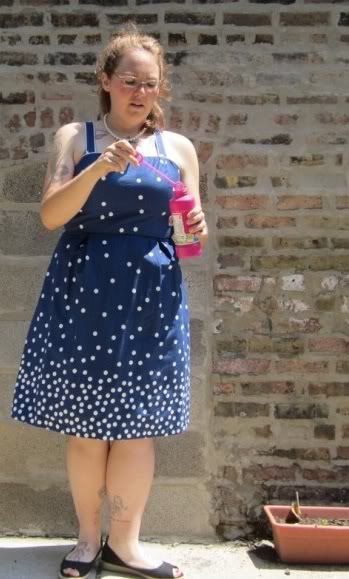 Did you have a moment in your life where everything changed for you, an epiphany moment, or has it happened gradually?
As far as weight loss, I had an epiphany, for sure - it was this time last summer, when I felt so ashamed of what I had allowed to happen to my body that I avoided my friends and family. Not only that, I felt physically limited - it was hard to shower and put my shoes/socks on and get out of bed in the morning. I wasn't sleeping well, and I had backaches all the time. I knew that if I didn't do something, I was going to die. So I took a walk around my neighborhood, and then another the next day. I ate better and I ate less. I stopped drinking anything that wasn't water or unsweetened tea, and I starting doing all my own cooking (the anniversary of my last takeout delivery was June 18 - looking at what I ordered, I feel sick and can't imagine eating even a quarter of it now, even on my worst days). And then I started to blog. It all just sort of fell into place - not to say it hasn't been challenging, but everything in my life came together and it was the right time for me to seize the opportunity. If I hadn't done it then, I don't know when would have been a better time.
What made you get involved with the Beat The Heat challenge?
Amy
! I have loved doing all her challenges - especially because I get to pick my own goals. I love having a to-do list of things I want to accomplish.
What is your favourite TV Show at the moment?
I don't watch TV - I have a TV but no cable/satellite/etc. I mostly watch movies, either DVDs or stream Netflix through the Wii. When I watch TV shows, it's usually on DVD so I can watch a lot of it at once. I'm an exceptionally patient person, but I just don't like cliffhangers!