My positive picture for the week:
I went to the Garfield Park Conservatory on Saturday since it was the first day of their annual honey sale - they have hives there and sell their honey as a fundraiser since admission to the Conservatory is free. It's a bit expensive but very delicious and a jar lasts me all year since I only use it in my tea, and it's a great local cause. It's especially important this year because most of the Conservatory is currently closed - we had a big hailstorm about a month ago and the glass roof of the antique building was shattered in a lot of places. This is the first time I've been back since the incident, and it was pretty sad to see. Luckily, the outdoor gardens are still thriving.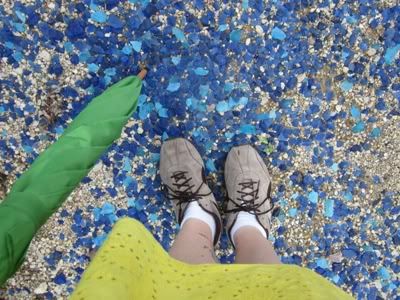 I liked the variety of colors, between the blue stone walkway, my loud yellow skirt, and my green umbrella (it's been raining a lot here lately, on and off).
What have you done this week towards your goals?
This week, I worked on goal #3 - stop following the rules. Stanier's explanation of this is as follows:
With the exception of gravity, almost all of the rules are negotiable, someone just makes them up. It's no longer about what you can't do, it's about what you can do.
With blogging, I've set a lot of rules for myself. With very few exceptions, I've had a post every day at 7:30 a.m. for nearly a year. Due in part to recent events, it's starting to feel like a stressful chore instead of something I love and look forward to. So as an early rebirthday present to myself, I'm going to cut back on posting. To start with, I'll be taking Tuesdays, Thursdays, and Saturdays off. I'll see how it goes after a week, then proceed from there. I can't quit for good - I *do* love it, and I need the accountability. But for now, this is what I need to do to preserve my sanity a little.
What did you do to make yourself feel fabulous?
This week's good feelings are two-fold. First, I stood up for my principles and broke up with Matt - surprisingly incredibly hard, but I need to trust that it was the right thing to do. And second, in the aftermath, I have not binged yet. I can't make promises for tomorrow or even five minutes from now, but in this moment, I'm being strong and choosing to feel my emotions and not eat them.
Do you exercise? What is your favourite kind and why?
I love being active in general - I used to be so lazy, and now it feels like I can never sit still. I think my favorite is running - after years of being so sedentary, I feel incredibly powerful every time I push myself forward, mile after mile. I like that running can make my worries disappear for a while (nothing relieves stress like stomping down your feet for an hour), and I like that it can be done alone, with a friend, or with a crowd. I like racing, because it makes me feel like a well-rounded individual: I was always The Brainy Kid, but racing makes me feel like an athlete. Every finish line feels amazing, but the fact that I even cross the starting lines never fails to make me feel like a success.
There are loads of fantastic bloggers here in the Beat the Heat competition, which blog or blogs have you discovered through the challenge that you particularly enjoy? Show that person some love!
I'm not one to pick favorites. What I like best about these challenges is that everyone's blog is different - some people blog about weight loss, others art, others just life in general. I think everyone's blog has something interesting to offer.
What song makes you want to dance at the moment?
To be honest, I don't feel much like dancing. Between my job situation, my family situation, and now the boy situation, I've been mostly listening to the Magnetic Fields, the Velvet Underground, and Leonard Cohen - total Debbie Downer music.
Sam
introduced me to the Magnetic Fields and told me perfect because when you're sad, you don't always want cheerful pick-me-up music - you need to feel the sadness a little, totally experience it, and then dry your face and carry on. This is part of me feeling my feelings - three minutes spent bawling my eyes out to a sad song is three minutes I'm not binge eating.