Oh, how I love the start of a new challenge!
My positive picture for the week:
Waiting for a bus at the end of my street: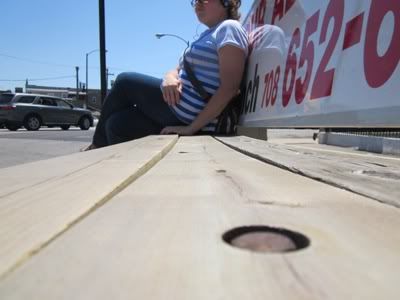 I love this picture because I took a similar one in Fall 2008 when I was moving into my apartment from the miserable graduate dorms (one suitcase at a time on the bus; not bad because I didn't have too much stuff). I was probably around 310-315 pounds here: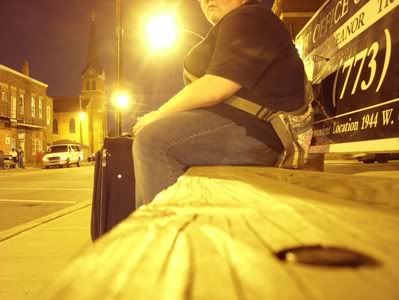 Lovelovelove progress pictures. And being able to cross my legs!
What are your goals for the 10 week challenge? / Why did you pick those goals? What makes them important right now?
I've decided to go with some non-traditional goals for this challenge. I have my
summer bucket list
full of things I'd like to accomplish before fall comes, but for this challenge, I'm going to be working on emotional weight loss and self-confidence exercises. My goals are in line with Michael Bungay Stanier's
Eight Irresistible Principles of Fun
:
1. Stop hiding who you really are.
2. Start being intensely selfish.
3. Stop following the rules.
4. Start scaring yourself.
5. Stop taking it all so damn seriously.
6. Start getting rid of the crap.
7. Stop being busy.
8. Start something.
At this point in my weight loss journey, this is where I think I can best focus my energies. I'm going to try to focus on one a week, though perhaps not in his given order.
What's your biggest excuse reason for not doing something and how are you going to stop it getting in the way?
Usually fear and self-doubt stop me - it's improved unbelievably over this time last year, but I could still use some work.
Are you a planner or do you go with the flow?
I'm a planner, definitely - I need a plan, goals, and/or some sort of to-do list at all times. Spontaneity makes me anxious ... so that's likely going to be one of the things I work on with this challenge!
Tell us something that will help us get to know you.
July 31 is my "rebirthday" - the one year anniversary of deciding to get healthier and hopefully save my own life. I've made a lot of progress these past eleven months, and I'm really looking forward to rounding out my first year with continued strong efforts and successful results!